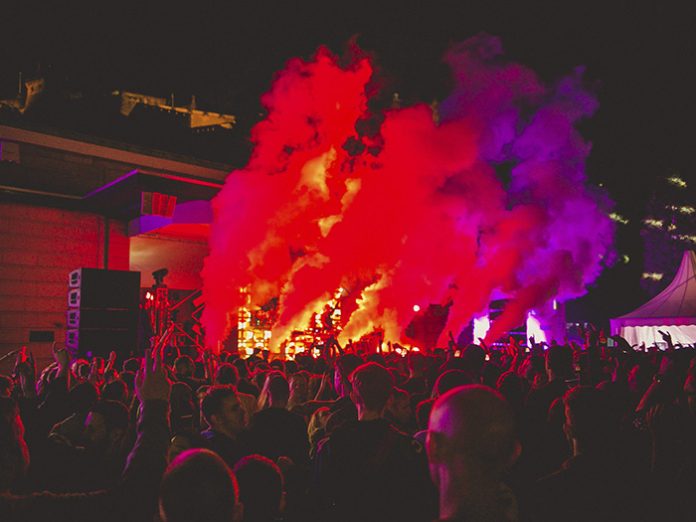 Manchester-based service providers VME, and its sister event company Creation Live, have provided sound reinforcement for Edinburgh's first outdoor dance festival – held at the prime Ross Bandstand, with Edinburgh's famous Castle providing the backdrop.
The 3,000-capacity semi-circular amphitheatre, set within Princes Street Gardens, was taken over by the local Fly Club, and VME were brought in since their premium Martin Audio MLA system would be able to meet the inevitable offsite noise restrictions imposed by the council.
"Given the fact that this was the first outdoor electronic dance promotion, operating between midday and 10pm, the event was highly sensitive," said VME Head of Sound, Mark Cleator. "We needed a system that was guaranteed to pass all propagation tests."
Their solution was to set two zoned ground stacks of four MLA and three MLX subwoofers per side (since there were no rigging points) to meet the requirements of German house exponents, Booka Shade, and other acts such as Theo Kottis, Detroit Swindle City Drum Ensemble and Harri + Domenic.
"We were given 95dB (Leq at 15 minutes) at FOH – measured at the back of the dance area – and a 75dB threshold offsite," said Mark. "And we ran comfortably under."
VME and Creation Live, represented by Live Events Director Tom Whittle, are no strangers to working with Fly Club promoter Tom Ketley, having joined forces back in 2011 when the latter promoted a sell-out Afro Jack and Pete Tong show. Tom recalls, "I was very impressed, and was keen to use them again.  I also knew that the company was a stockist of Martin Audio MLA.  To me the sound on an event such as this is one of the most important factors for audience enjoyment and I wanted to ensure the sound was top notch.  The local authority had recommended I use the Martin Audio MLA, but this was new territory for themselves and for me."
MLA was equal to the challenge and the event was an unqualified success, despite buffeting winds on rig day (which saw the VME gazebo blown high up into a tree. "It was so windy at one point they threatened to call the event off, but fortunately it died down and MLA is a? sufficiently powerful box to cut through," said Mark Cleator.
"Because of the width of the coverage required, having MLA, with its 90° (±6dB) horizontal constant directivity, pattern control was a bonus, particularly knowing that it was usable out to 120°."
Achieving even coverage posed no problem whatsoever, as Mark Cleator tuned and programmed MLA using Display software and the Merlin Controller. "I just mapped out the area and locked the preset, and then adjusted the non-audience area to make sure it was firing where I wanted. I walked the site a couple of times to check and then handed over to our FOH Engineer, Oliver Fallon.
"The ability to control the audio and keep it within the audience area and still provide smooth even coverage which is essential to electronic dance music, meant I had no concern over any off site complaints. There is no better system for this and everyone has come away impressed with its audio quality and it's technical capabilities."
VME also provided Pioneer and Allen & Heath DJ playback, as well as all lighting, big screen and production.
Concluded Tom Ketley, "Many people commented on how good it all sounded and how impressive the achieved level was considering our location. The Martin Audio MLA certainly worked very well to give the audience a really memorable day."
And Tom Whittle confirmed, "The Martin MLA system really delivered, we use it on a whole host of different events and I have always been so impressed with it, not just from a sound propagation point of view but also the overall quality of the audio."
With plans afoot to make this a regular annual feature in the Edinburgh clubbing calendar, the promoters promise that the event will return bigger and better!