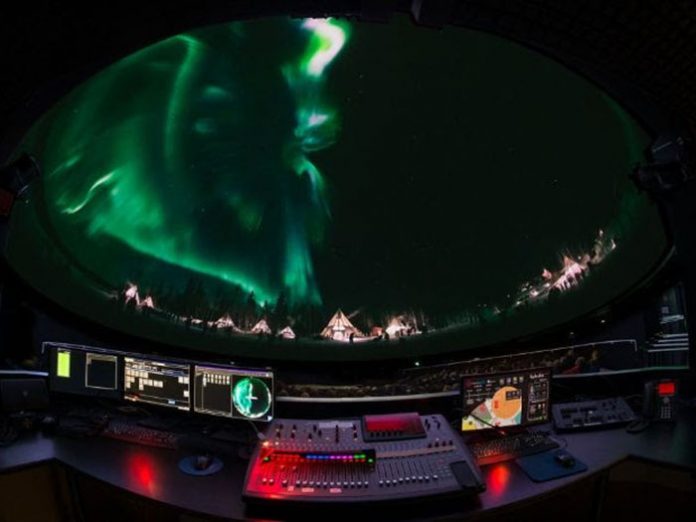 ISE 2019 will see VIOSO, return to the Amsterdam RAI for the tenth consecutive year in February.
Alongside hosting industry and media guests on their stand (Hall 1, H5), the company will be welcoming visitors to their impressive outdoor dome for product demonstrations, networking events and official show lunches. Mike Blackman, Managing Director of ISE Producers, Integrated Systems Events, said: "We knew we could rely on VIOSO to deliver a value-added feature to this year's show."
The PVC and steel, geodesic dome – a P75 model manufactured and assembled by Polidomes and has the capacity to accommodate 114 standing occupants. The structure will be located on the RAI exhibition ground, outside of Park Entrance F (Entrance of Hall 8) and will be used by VIOSO to show the capabilities of its warping and blending software.
Visitors to the dome will be able to experience uncompressed playback of 4K Domemaster content in full-colour depth, via brilliant projection through high quality, planetarium-level Barco simulation projectors. The calibration of the dome will be accomplished using VIOSO Anyblend, while video playback will be performed using AV Stumpfl's Pixera VIOSO Edition.
Blackman explained: "ISE has a strong reputation in showcasing the latest technologies and trends to visitors, and projection solutions in general are a growth area for the show – not to mention an exciting sector in the AV marketplace. The VIOSO dome is a great showcase of the creative application of innovative technology – everything ISE is about."Inside the RAI, visitors to VIOSO's stand (Hall 1, H5) will see the return of its mini-dome, which uses camera-based software for warping and blending demonstrations, and the introduction of hands-on dome calibration sessions. The company will be premiering new versions of its software including VIOSO Player 2, VIOSO Anyblend 5, VIOSO Anyblend 5 VR & SIM Edition, VIOSO Anyblend 5 Integrate Edition and Pixera VIOSO Edition.
VIOSO PLAYER 2 will feature a brand-new video engine supporting high res. video and most recent codecs, and a completely redesigned intuitive Playlist-Interface that is accessible remotely via Browser-Interface. The program also boasts an extensive control layer and Autoalignment Calibration Core 2.0 – improved calibration and image quality methods for domes, curved screens, 3D objects and many more types of applications.
VIOSO Anyblend – the company's bestselling product – comes in a new major version with tonnes of features introducing a setup wizard for even the most complex calibration situations and Windows 10 compatibility and extended dome setups.
Its variant, the VR&SIM Edition, enables dynamic viewpoints and new linearity features, while the brand new sub-version, Anyblend Integrate Edition, offers the opportunity to export to a wide range of software and hardware products on the market, including some of the industry's best-known media servers and projectors.
AV Stumpfl's brand-new media server, Pixera, will also be presented in a special VIOSO Edition.
These updated products will enable users to set up even the most complex AV or simulation projection installations without having to worry about blending and geometry warping, while completely integrating into their current workflow and toolkit.
VIOSO's CEO, Benjamin Fritsch, commented: "ISE is a great time of year for us because we get the chance to speak with both existing and potential customers, as well as end users, face-to-face. We want to be able to provide the AV-market the best software possible for setting up multiple projectors by using cutting-edge technology and our patented auto-alignment software, so constant feedback and insight is always welcome."