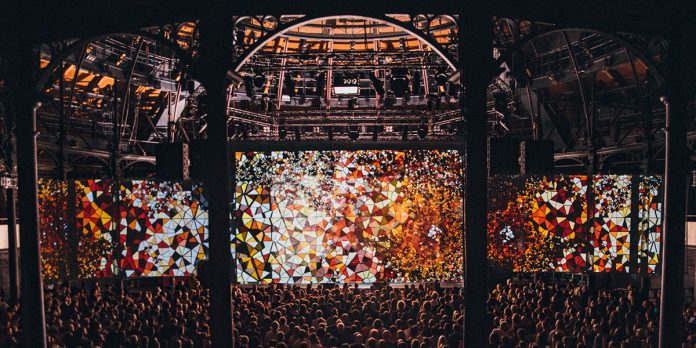 Equipped with a dance floor, London's Roundhouse proved to be an ideal space for Max Cooper's latest live project. Providing wrap-around technology and semi-transparent screens, Video Illusions helped engulf the London-based producer and around 1,700 electronica and techno fans in an unforgettable multisensory experience. 
"This is something I've been developing for six years," Cooper began, explaining his hands-on approach. "I have always loved the visual aspect of live shows and I wanted to control my visuals live, which are inspired by past albums and collaborations."
Immersion plays a big part in Cooper's musical and visual approach. "I always try to create a shared space with the audience. I've been experimenting with gauze layers to create 3D effects and visuals, which draw in the audience," he noted.
For this show, translucent LED screens were joined to create a 33m-wide continuous image around the audience, with an additional 10m by 5m screen used as a back wall. "I operate all of the audio and video using two MacBook Pros and control devices – namely, an Akai APC40 and an iPad running Lemur, which yields multiple custom control surfaces. Those feed MIDI into the audio machine running Ableton and that feeds OSC into the visual machine running Resolume," Cooper explained. 
"The initial challenge in controlling my own visuals was figuring out how to get a seamless link to what I was already doing with Ableton, and a personalised form of improvisation and expression in the visual realm to marry up with what I like to control in the audio at my shows. After some failed attempts, I found Resolume and enlisted the support of Mattijs Kneppers to help control the interfacing devices."
It then took several months of work to figure out how Cooper could link hundreds of parameters in Ableton and Resolume in a way which provided him with an 'audio-visual jamming system'. 
"The system was there but I needed to put in the time to figure out what audio changes should sync to what visual changes," he said. "I ended up with a matrix of visual effects which I can control from inside Ableton so that I can work with any combination of effects which are assigned to audio filters and triggers."
In terms of the multi-projection setups and the use of gauze layers, the main challenge facing Cooper and Video Illusions was providing a stable signal transmission to all of the projectors. Cooper used eight independent visual layers, which required 100m-plus signal transmission runs.
"Getting the projector placement right with just a day to get in was key," Video Illusions Managing Director, Nick Whiteoak commented. "We run all our projector setups through a 3D simulation to double check all lens calculations. This is especially relevant when using Ultra short throw lenses which often have no zoom."
As well as supplying kit, Video Illusions provided a team of two video engineers for the show, who were supported by local crew. "We loved working on this show. The result was visually stunning with fantastic content. We look forward to working with Max again, as we're huge fans of his work."
Cooper summed up the 'special' experience. "Roundhouse is a beautiful space and it was rare for me to get such a wide space to work. Promoters, LWE Events were great at helping me create the biggest experience we could with the help of the Video Illusions team," he concluded. "We're already planning the next project – which is going to be even bigger!"
This article originally appeared in issue #270 of TPi, which you can read here.