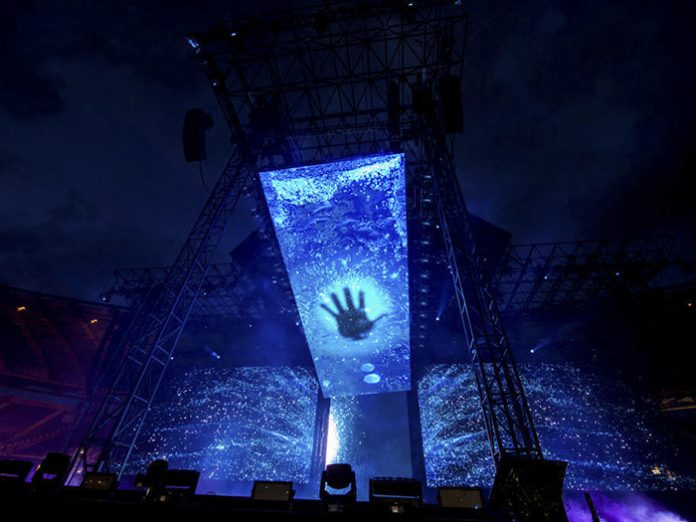 Italian singer-songwriter Tiziano Ferro's Il Mestiere Della Vita stadium tour is attracting sell-out crowds this summer, following the release of his eponymous sixth studio album late last year. Known as the modern face of Italian pop music, Ferro is drawing over 50,000 fans to the 12 dates on his second stadium tour across Italy.
Clonwerk S.R.L. – production of AV content and graphics for live events – is using four d3 4x4pro media servers with VFC cards to handle the massive amounts of on-stage content supporting Ferro's performance.
"The key point of the artistic concept is that the audience wants to see the artist at all times," said Clonwerk Show Director and Creative Director Romain Sabella. "For this reason, we created a show where Tiziano's live feed is always present but not a simple IMAG for people far from the stage. Instead, it's an integral part of the show, interacting in real time with graphical environments that always make the artist the centre of the audience's focus."
The show design features a large, portrait mode, central LED back wall, which is divided into two pieces; two giant IMAG screens – a catwalk floor; and a moving roof LED wall. One 4x4pro serves as a master while three 4x4pros with VFC cards, and the d3 auto failover understudy system was deployed for full backup reliability. An Elation Midicon Pro controller enables external control of some live parameters, LED brightness and Notch real time VFX parameters.
Sabella says that d3 media servers were chosen for "their power, capabilities, flexibility and seamless integration with Notch real time visual effects. Four live feeds are always ready to be displayed, and we switch from one to the other depending on which works better with the specific part of the song played at that very moment. Once we decided to use d3 we suggested to LiveNation to rely on the expertise of AV supplier VER, who are known for their vast capability and knowledge on media servers. The company has assembled a team of experts for pre-production and production on d3 and Notch. Key to the VER team was Jo Pauly, the d3 Programmer and Operator from Visual Solutions, whose expertise allowed us to fully take advantage of d3's capabilities during the entire process."
The complex visuals for the show require "the amount of outputs on every d3 machine, the stable hardware with four simultaneous HD inputs and the stable play out of Notch effects," said Pauly. "Some of the effects could only be achieved by combining Notch and d3. The multilayered timeline could exactly replicate the after effects show files – a combination of mattes, channel router, masking and more – sometimes up to 40 layers for a single song. And d3 makes it easy to switch tracks only seconds before the show starts. It's the best media server out there, by far."
"We use up to four video mattes in sync with graphics to open a live feed merged with graphics. And Notch integration let us go even further playing with live feeds and turning it into kaleidoscope effects or lightning or fire on selected instruments at selected times." Sabella explained.
Pauly was able to previsualise the show on d3 exactly as it had been envisioned by the creative team at Clonwerk. "I received a preview visualisation of the songs' look and feel," he said. "I could easily load this into d3 and replicate my programming to it. After programming I could export the d3 programmed stage output, together with the previs, and send it back to the creative team for feedback. This proved to be a fantastic workflow. In addition, all Notch effects could be tested with real footage of the artist to see what the results would be."
Previs allowed the creatives to "solve most issues before arriving at the first location leaving us time to concentrate on fine tuning and obtaining a great result," added Sabella.
During the tour Pauly has also found helpful d3's versioning, frame replacement, low-latency live image capture and ability to sync to the house sync on all outputs of the system.
Pauly reported that the d3 media servers "are stable at 150 percent – and we are pushing them to their limits. Despite the heat from the outdoor shows the machines keep on running as they should." he concluded.