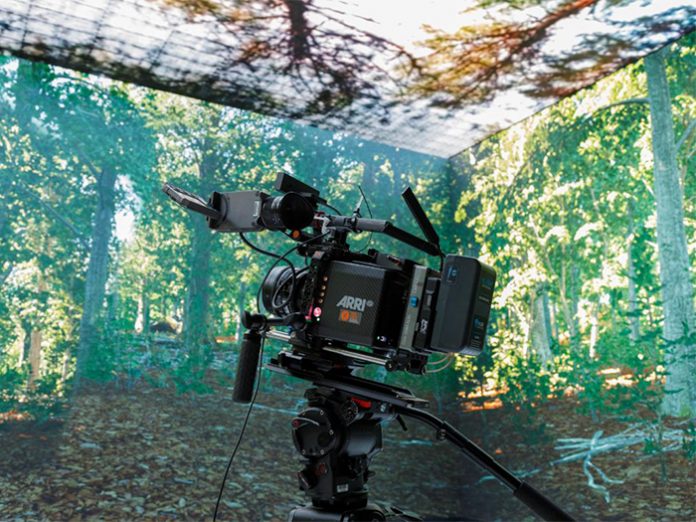 VERO joins forces with Production AV to pioneer a new virtual production solution in the UK, offering a fully-operational LED surround screen backdrop, realtime graphics and powerful in-sync camera tracking.
The project brings together content, technology and operations talent from multiple companies, which have joined forces to enable creatives and filmmakers far more on-set visual control.
VERO features Desay 2.6mm pixel density LED screen technology from Production AV and visual content by MadeWithVero. Utilising Production AV's touring and events experience, the solution can be deployed across the UK as needed by the production.
The team believes the set-up has revolutionised traditional VFX workflows, which rely on combining physical footage captured in front of a green screen with digitally generated backgrounds in post-production. In addition, costly set builds, location shooting and visual FX can be re-thought and re-imagined.
VERO enables directors to see the visual backdrop in real-time during filming on set, with the powerful graphics engine tracking technology meaning the action is always realistic and moves with the subject.
"We're thrilled to help bring VERO to reality," said 3D animation and motion graphics expert Robert Tyler, from MadeWithVero. "We've pulled out all the stops to combine the latest camera tracking, gaming engines, and LED screen technology with high definition, lifelike graphic creation to shape VERO. COVID-19 has, of course, changed the way we consider the world and our approach to projects when it comes to travel, crew and costs, and we are more inclined to scrutinize our carbon footprints. But at the same time, film production is more creative and high-end than ever before – we all want our projects to look incredible on screen. We believe VERO is the answer."
He added: "Despite the lockdowns, we have been able to deliver projects due for TV broadcast in the spring, as well as advertising work for a global car brand. The VERO solution has enabled completion on projects that would otherwise still be on hold."
The team is pooling talent from across the South West to achieve its goals, and is offering the VERO studio for hire, kit supply and for live events. It is already attracting attention from Channel 4, HBO and Keo Films.
Production AV MD Pete McCrea commented: "We invested heavily in Desay X2i 2.6mm LED Screen Panels to create the VERO studio background, and the results are incredible. We have more than 500 of these modular tiles fitted together to envelop the space and provide a clear and consistent, wraparound backdrop for filming, and more really is more in this situation. We also have a proven 10bit workflow and the ability to deliver HDR content to the screens."
He furthered: "The bright screens and great colour reproduction means that the lighting is truer to the intended location with no green spill. This gives the director and actors the ability to see the world they are in, and compose the shot in camera. Decisions can be taken quickly, and shots can be re-composed on the fly to ensure the directors vision is captured. It's enabling filmmakers to bridge the gap between imagination and reality."