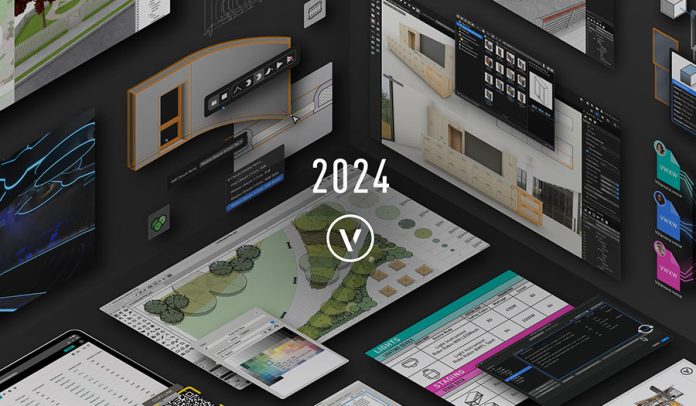 Vectorworks has announced the availability of Vectorworks 2024. 
The 2024 release includes Vectorworks Architect, Landmark, Spotlight, Design Suite, Fundamentals, ConnectCAD, Braceworks and Vision with the English-language editions of these versions available today.
"Our goal is to empower designers with tools and resources that boost their creativity," said Vectorworks Chief Technology Officer Steve Johnson. "With Vectorworks 2024, we have taken this mission to new heights through groundbreaking new features, user experience enhancements and a strong focus on quality and performance. These advances will significantly accelerate our users' design experiences, from the initial spark of an idea to the ultimate realisation of a project."
The reorganised View and Mode bars offer users a range of tools for access and organisation. The new option to save custom viewport settings as styles allow for easy transfer between viewports, reducing errors and increasing efficiency. Referencing Excel files' data enhances connectivity and collaborative data capabilities. Plus, improvements to Shaded rendering.
Vectorworks 2024 enables customers to experience more freedom when transforming models with the new 3D Dragger. With re-engineered section viewport rendering, they'll also be able to navigate rendered sections or clipped models.
The latest improvements from Vectorworks 2024 bring everyday quality and performance improvements to lighting and live event workflows. The new Equipment Lists feature unifies the equipment and inventory tracking process, providing the tools to plan and document equipment and streamlining the preproduction process.
For ConnectCAD users, the "Share Reports" command uploads design data to Vectorworks Cloud Service as a configurable worksheet to view in a web browser on any device, along with the new unified 3D Rack.
The release of localised language versions will begin in October and conclude in the first quarter of 2024.