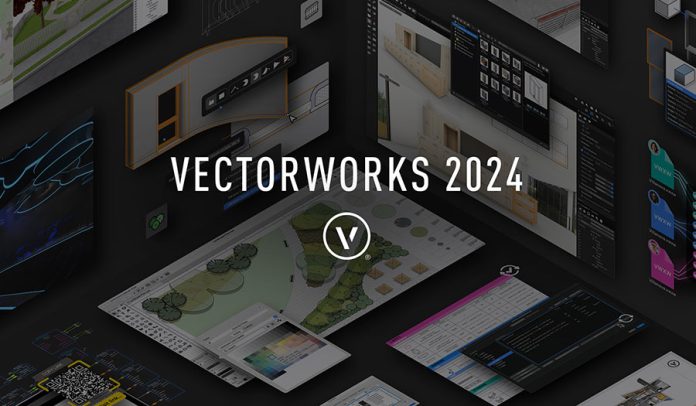 Vectorworks is preparing to release the 2024 version of its product line, dedicated to providing solutions that automate processes and let designers tackle more complex problems. The upcoming version includes Vectorworks Architect, Landmark, Spotlight, Design Suite and Fundamentals, along with 2024 versions of ConnectCAD, Braceworks and Vision.
"Vectorworks 2024 represents a significant move forward in integrating our tools into specific design workflows. By taking a holistic and high-level approach, we work hard to ensure that our software aligns seamlessly with the natural processes of designers," commented Vectorworks CEO Dr. Biplab Sarkar. "From ideation to final execution, this latest version has been carefully crafted to ensure new tools and existing features work together harmoniously to diminish disruptions and enhance productivity."
The 2024 product line is set to impress Vectorworks users across all industries, featuring a wide range of tools and feature improvements.
In a effort to save designers time, Vectorworks 2024 delivered an updated and modernised user interface that makes working in Vectorworks more efficient and easier to customise. The reorganised View and Mode bars bring a wide range of tools to the forefront, so users can decide how to organise tools and shortcuts for easy access.
Additionally, Project Sharing has been rebuilt to ensure project data and geometry is always current in a project file. Project Sharing+ tracks every change, every time, and substantially improves reliability regardless of your team or project size. Designers will see productivity gain with the ability to save custom viewport settings as "styles," making them easily transferable between viewports.
For lighting and live event designers, the equipment lists feature exemplifies its focus on providing automated solutions to manual, complex and repetitive tasks experienced by unifying the equipment and inventory tracking process. Equipment Lists streamline the preproduction process by providing the tools to plan and document the equipment needed by a show or production.
In addition to empowering designers with automation and problem-solving capabilities, Vectorworks 2024 will build on the platform's long-standing commitment to continuously delivering improvements. Users can expect several quality enhancements in the approaching version, with more detailed information to come soon.
"Continuing our tradition of excellence, Vectorworks 2024 embodies our quality initiative, emphasising solutions to complex problems," concluded Vectorworks Chief Product Officer, Darick DeHart. "We believe in the power of comprehensive workflows that address the challenges faced by designers and can't wait to share more on the exciting improvements in quality that await our users in the new version."