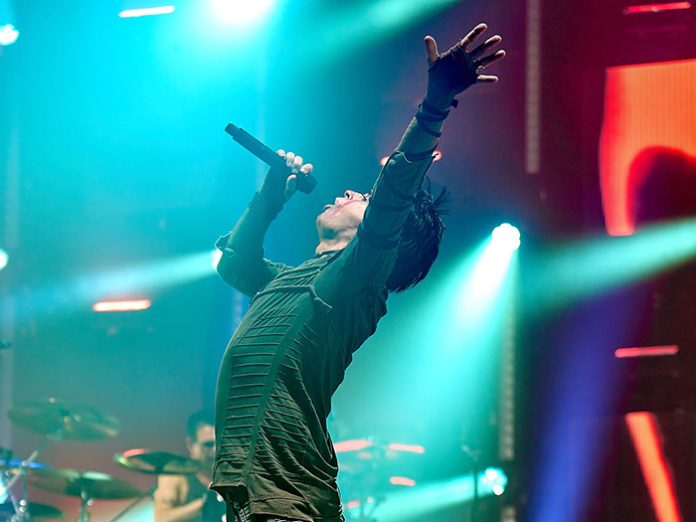 Gary Numan hit the road in April 2022 with a 'moody' and 'ethereal' lighting design created by LA-based designer, Dustin Snyder. An essential objective of the design was to ensure that the fans could clearly see Numan and the band's expressive faces from all parts of the room and also on camera. For that reason, Snyder sought out the precise framing capability and familiar CMY colour palette of the VL2600 WASH from Vari-Lite, a Signify company.
Atmospheric and moody, the design is inspired by Numan's three red stripes of facial war paint, from his portrait on the cover of the Intruder album, and centres around a heavily backlit, multi-layered, video and lighting design. 
The main scenic element on stage is a huge video wall that oozes ominous, cinematic insights into a broken planet, destroyed by humanity, as Numan manifests as the planet's own lamenting voice. Numan's signature industrial synth and electronic sound is full of rage, desolation, and treachery, while Snyder's beautiful and precisely programmed, oft-menacing lighting design, complements this with disturbing, dystopian atmospherics.
In addition to showcasing Numan's Intruder album, the tour also includes songs that span Numan's 45-year career, so Snyder was keen to give each album its own aesthetic. Using stark, desaturated colours on the more industrial songs, Snyder reinforces the apocalyptic world of the video content as requested by Numan himself: "Gary wanted a video wall that felt asymmetrically fractured, with pulsing light radiating from the cracks between."
With three versions of the show, designed to fit a variety of venue sizes, when it came to front key light Snyder said: "I was looking for a controllable fixture with substantial firepower. This was my first time using the VL2600 WASH fixtures and their high output, even beam and precise beam shaping framing shutters made them an excellent choice."
This was especially true on the Wembley gig, where the show was being filmed for distribution as well as for in-the-room IMAG. "The VL2600 WASH fixtures provide a solid and reliable front light," added Snyder. "They're packed with all the features I need to keep the band clearly visible, from the front to the back of the room, and they work so well on camera."  
Lighting and video equipment for the UK and Europe was supplied by Siyan and Universal Pixels, respectively. Business Director for Siyan, Tom Grant, said: "The VL2600 WASH has been a solid workhorse unit for us and always deliver well in any application we throw at them. They were the first-choice solution we offered Dustin when he was looking for front light options for his full production shows, given their great colour rendering and variable CTO colour mixing."
Gary Numan is touring UK, Europe and USA until the end of 2022.