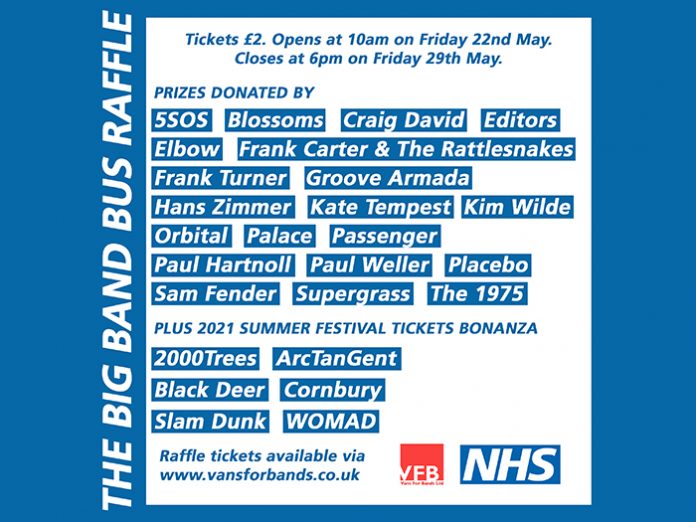 Vans For Bands has announced the arrival of 'The Big Band Bus Raffle' – a fundraising raffle of items donated by the music industry to provide frontline doctors and nurses with wellbeing breakout space during the COVID-19 pandemic.
The news comes as last month, Vans For Bands announced that it was offering its entire fleet of state-of-the-art luxury tour buses to NHS hospitals for front-line staff to use for the duration of the current COVID-19 crisis.
The Royal Berkshire Hospital in Reading, Hillingdon Hospital in Uxbridge, Whittington Health NHS Trust in north London, Lewisham Hospital in south London and North Tees Hospital in Stockton-on-Tees were the first hospitals in the UK to take advantage of the offer with tour buses parked up on site.
Vans For Bands hosted BUS-TIVAL, a 10 hour live streamed event on 25 April, to generate funds to keep the buses parked at these hospitals. The huge popularity of BUS-TIVAL generated many more requests to park buses outside additional hospitals throughout the UK.
In order to fund the running costs of these tour buses Vans For Bands will be hosting THE BIG BAND BUS RAFFLE featuring prizes and memorabilia donated by artists and companies from throughout the music industry.
Fans can enter the raffle by visiting www.vansforbands.co.uk, where they will be able to see a complete list of the prizes on offer and click through to buy tickets.
Prizes include a black Epiphone Hummingbird Pro electric-acoustic guitar used on tour by Frank Turner and signed and made out to the winner, four tickets to see 5SOS in March 2021 including pre-show soundcheck experience, Editors frontman Tom Smith's favourite pair of leather boots worn on stage since 2009, The 1975 goody bag, free tickets to summer festivals in 2021 and many more.
Raffle tickets are £2. The raffle goes live at 10am BST on Friday 22nd May and closes at 6pm BST on Friday 29th May. The winners will be emailed automatically as soon as the draw closes.
The Vans For Bands web site also includes details of how fans can donate via their JustGiving page (www.justgiving.com/crowdfunding/vans-for-bands).
Ed Thomson, Director and co-owner of Vans For Bands, said: "Despite the fact that the live music industry has been decimated by the effects of social distancing due to COVID-19, we are so pleased to see everyone coming together to offer such exciting raffle prizes and memorabilia. A huge thank you to the artists and companies for their generous donations without which this raffle would not be possible."