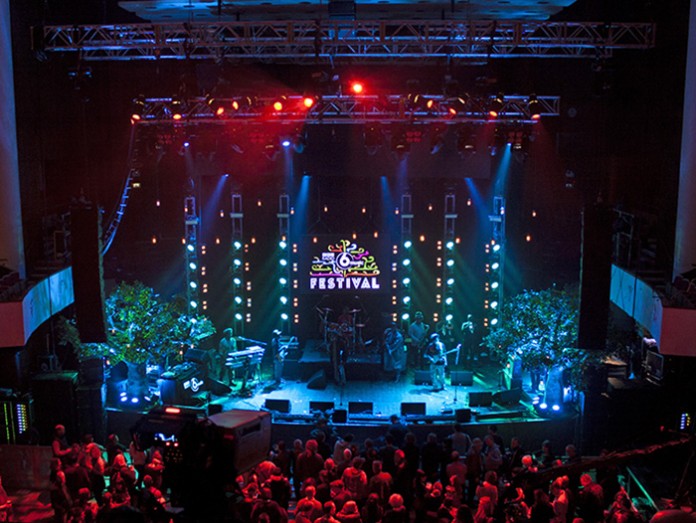 As Bristol geared up to host the third BBC Radio 6 Music Festival, Utopium was selected as lighting and rigging supplier for Colston Hall's weekend of live music, in February 2016.
Utopium supplied all lighting and crew to Colston Hall as it hosted performances from a range of currently emerging and already established artists, representing the very best in alternative music. Tasked with supplying all the interior and exterior festival lighting, Utopium provided 25 Martin by Harman MAC Quantum Profiles, 14 MAC 2000 Washes, 30 Chauvet Professional Q Wash 419's, 12 Chauvet Legend 230SR Beams, 12 SGM S5 Strobes, 20 Chauvet COLORado 1-Quad IP's, 30 Thomas 2-Cell Molefays, four Thomas 4 Cell Molefays, 10 Howie Battens and 12 Source 4's, all controlled from an MA Lighting grandMA lighting control desks and Avolites Art 2000's dimming.
Inside Colston Hall, Utopium also sub-hung three lighting trusses and provided the truss for Underworld's video screen, utilised by the band throughout their performance. On the main stage, six lighting towers were also provided, which lit up the performances throughout the weekend.
On the front of Colston Hall, Utopium supplied MAC 2000's for Gobo Projection, which showcased the BBC Radio 6 Music branding throughout the event. Within the Lantern, the house rig was supplemented with Chauvet 412's and four Chauvet 640's to ensure optimum event lighting.
The installation was overseen by Utopium's Ian Evans, who commented: "Being a Bristol-based company it was a great honour to be involved with the BBC Radio 6 Music Festival as it headed to our city. Having been heavily involved with the Bristol music scene for many years, we know that it's a city with a brilliant musical history with a wealth of local talent, so it is a great choice to host this festival.
"We work alongside Colston Hall regularly and it's always a pleasure to be selected for such an iconic local venue. BBC Radio 6 Music champions great alternative talent, which is something that Bristol's music scene encapsulates, and we're proud to have helped create this event."