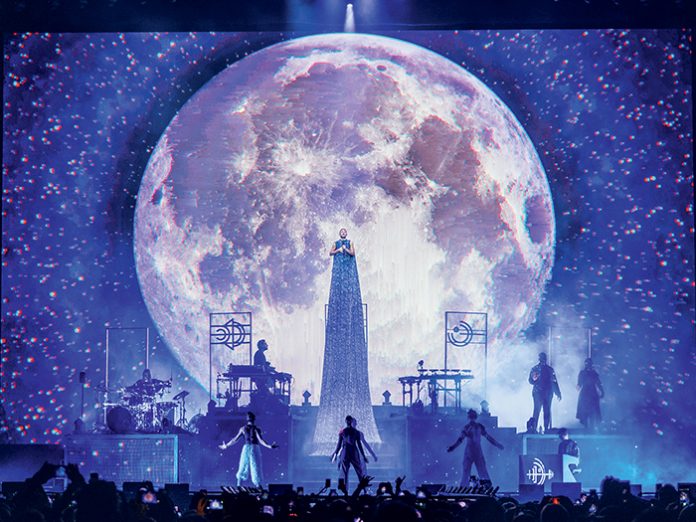 Universal Pixels supplied a flexible video package for British synth-pop stars Years & Years' Palo Santo live campaign, including festival dates, UK arena shows and European performances.
Years & Years landed back in the UK charts last summer with their critically acclaimed second album, Palo Santo, and a production befitting of the band's standing in alternative pop culture. A number of festival dates coincided with Palo Santo's highly anticipated release before a UK arena tour and subsequent European concert hall dates were met with sold-out crowds last winter.
Universal Pixels worked closely with production designers, Cassius Creative, taking on the design and supply of the video elements, as well as the indoor venue IMAG requirements. The versatile design peaked in size at the London O2 Arena, with the show featuring a 195sqm ROE CB5 screen and bespoke Leyard CLM 6mm LED stage panels.
For the festival shows and European dates, the production featured a scaled-down video design – specified by Universal Pixels to suit the size of each venue.
Universal Pixels' Jay Mobbs-Beal explained: "The upstage screen is very standard and quick to build in touring frames. Incorporated into the set, it stayed there for the duration of the tour and, again, was quick and easy to build every day – this was realised thanks to the pre-tour planning with another the tour vendor, All Access Staging & Productions."
On the attributes of the Leyard CLM6 screen panels, Mobbs-Beal added: "It's hi-res, bright and significantly lighter than any comparable product currently available, additionally it now benefits from Colorlight processing. The result is a big improvement in picture quality."
Universal Pixel's IMAG system comprised Barco UDX 30k projectors, a For-A HVS 100 video switcher, two Hitachi 1200E cameras, three Agile ARC 360 PTZ cameras and three UP Block Mini-Cams. Universal Pixels ran Disguise Solo media servers which, along with the Leyard panels, are recent additions to the company's extensive rental stock.
Cassius Creative's Chris 'Squib' Swain said: "Communication in the pre-production period was a key factor, allowing the workflow between Universal Pixels and ourselves to be seamless. Addressing the obstacles at that stage meant the show was easy. This is probably due to the size of the company – Universal Pixels gives its clients the extra level of care and attention that we are constantly looking for."
Palo Santo was production managed by Steve Down and Tour Managed by Tom Nicol of Helix Productions.