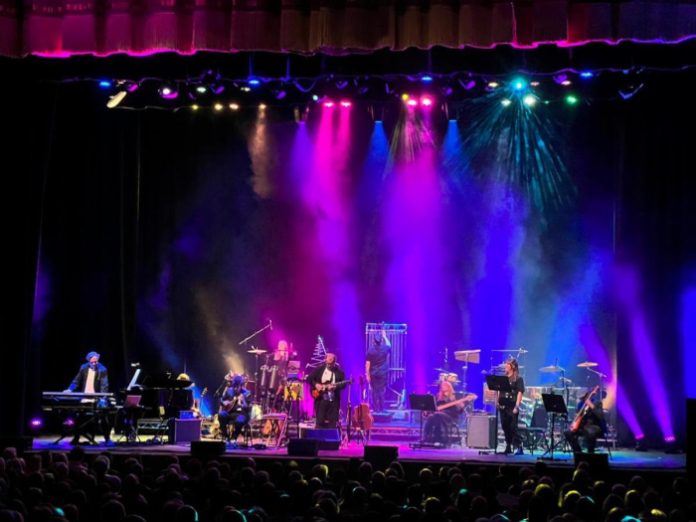 Conducted and arranged by Mike Oldfield's long-term collaborator, Robin Smith, Tubular Bells 50th-anniversary tour featured the Royal Philharmonic Orchestra, who performed the entire album in sold-out venues across the UK. A full EM Acoustics system, consisting of HALO and EMS series loudspeakers accompanied the tour and was deployed in a total of 32 venues over the course of two months.
Show Works became involved in the project during the initial phases, having worked closely with the event's producers on previous projects such as the recent Rob Brydon tour also using EM Acoustics. "For Tubular Bells, they required an extremely high-quality system that would do full justice to the music of Mike Oldfield," explained Oscar Thompson of Show Works. "EM Acoustics kit delivers a purity of sound – what you put in is what you get out, so it was ideal for Tubular Bells. People love this album, and they want to hear it in an unadulterated form."
Following on from previous successes, Show Works specified a full EM Acoustics system consisting of HALO-B and HALO-C as well as EMS-129s and EMS-81s. "The project was certainly challenging from a musical point of view," recalled Thompson. "With an orchestra of that size there's a lot going on, but with EM you can rely on consistent quality, from the HALO line arrays right down to the smaller EMS loudspeakers." An established partnership with EM Acoustics also meant they could get together the kit they needed in a short amount of time; "We have a good relationship with the team at EM and we were able to turn the entire project around in just 6 weeks."
Two DQ20 amplifiers were deployed to drive the main part of the system. "EM's DQ20 amplifiers were easy to use, especially the Dante ports directly from the amplifiers," explained Tubular Bells Tour Sound Engineer, Sam Ferstenberg. "I used XLRs in failover mode in case the Dante network went down, but it was fairly smooth throughout the tour."
The tour, which featured special guests including renowned theatre and television actor Brian Blessed, received excellent reviews throughout its touring agenda, with the final show taking place in Bath on 31 March 2023. Those behind the scenes were pleased with the audio performance of the EM Acoustics system.
"I was particularly impressed with the versatility of the HALO-B and C cabinets. I was able to use the C in both a line array and front-fill format, and the B was a consistently reliable box as my main PA," recalled Ferstenberg. "The sound of the boxes themselves was exceptional – the tops were punchy without being too 'in your face', and the subs were loud enough without being muddy. I was able to get high SPL's without it sounding like I was overloading the amps or the drivers."
"The tour has gone well, with the transparency and purity of sound you get with EM loudspeakers a major part of that success," confirmed Thompson. "The system we installed truly did justice to Tubular Bells, and that's what we're most pleased about."