With sustainability now higher on the agenda than ever before and more artists aiming to be more environmentally conscious while out on the road, it has fallen to the live events industry to create solutions to lower the carbon footprint for live entertainment, with everyone from manufacturers to rental companies and touring teams coming up with innovative initiatives to do just that.
Having seen and reported on many of these measures in action over the past year, TPi introduced a new category for the TPi Awards 2022 to recognise the important work being carried out in this area: The Green Award. 
Open to individuals, companies or organisations that have gone above and beyond to make the events industry more sustainable, the award was judged by a panel of industry experts such as Production Manager, TPG Sustainability Facilitator and Head of a Greener Touring, Jamal Chalabi; Shambala Co-Founder and Sustainability Lead and Chair of Vision: 2025, Chris Johnson; Julie's Bicycle and Project Lead for Vision: 2025, Chiara Badiali and Vision: 2025's Graham Brown.   
SLX: GREEN AWARD 2022 WINNER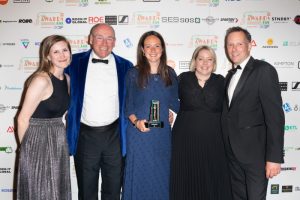 This year's winner was Bristol-based, turnkey production provider, SLX, which was credited for its dedication to putting sustainable practices at the heart of its business model. This includes the recent appointment of Phoebe Currie, SLX's full-time Sustainability and Social Values Manager, and a commitment to reach Net Zero by 2030 under the Bristol One City Climate Change Ask.
"SLX has shown leadership and an in-depth understanding and commitment to reducing climate impact and has an impressive track record of taking action to reduce emissions," commented Green Awards Judge, Chris Johnson. "If only all companies were as forward thinking and effective as our winner."
The Green Award was accepted by Phoebe Currie, who commented: "It was fantastic to see sustainability front and centre at the TPi Awards – it really shows a movement is taking place within our industry," Currie said. "I am thankful to work for a company that is so receptive to change and conscious of the climate change challenge."
Since taking on the role at SLX, Currie has overseen a companywide initiative to calculate its 2020/2021 carbon footprint and a baseline of emissions. From this data, the company has pledged to the Bristol One City Climate Ask to be Net Zero by 2030. The organisation has already invested in two electric company cars, three electric car chargers, and has prioritised hybrid generators run on HVO over diesel for all its events. 
SLX has also almost completed switching its rental stock from energy-hungry and inefficient tungsten to LED fixtures. However, the company's largest sustainability investment this year is on a 120KW solar panel system, which will sit on the roof of its warehouse in Avonmouth.
CEO, Alastair Currie, added: "Sustainability is a core pillar of the business here at SLX. It is deeply embedded into everything we do, and this is why sustainability was one of the key focuses of the rebrand, which we launched earlier in 2022. We will continue to invest in sustainable policies and technology."
DIGICO
DiGiCo was put forward for its Quantum range, which showcases the company's drive to deliver and improve on the sustainability of live touring. The range is in line with the company's holistic view across its operations, product design, product use and product end of life to ensure that the company minimises its carbon footprint and maximises the sustainability of operations wherever it can.
DiGiCo operates under an overarching environmental policy to consider environmental issues and reduce, re-use and recycle wherever it can. The company also adheres to a Research and Development Eco Design Policy launched in 2018, which covers its approach to the design of all its products, with a particular focus on weight, power consumption, recycling, and general eco-conscious design.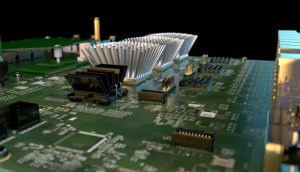 As a result, the whole Quantum line of products have been developed with these principles in mind. One example of this has been using computer-based Finite Element Analysis to ensure that the products are as light as possible, without losing strength and rigidity. In the case of Q2 and Q3, this has allowed a 34% weight reduction on the arm rest extrusion. 
The company has even made steps to reduce its overall carbon footprint with efforts including signing 100% renewable gas and electricity contracts covering all its UK operations, so that there are no carbon energy emissions from either its Head Office/R&D centre or factory. It even plans to take this one stage further in the future with the fitment of solar panels at its factory site.
EQUINOX
Touring specialist charter broker Equinox Charter and sister company Equinox Travel recently launched its Equinox Enhanced Sustainability Initiative (EESI), designed to analyse and compare the sustainability efforts of aircraft operators.
When making aircraft and operator choices, music and entertainment clients can now request bespoke and market-tailored sustainability assessments of suppliers from a flight operations perspective alongside other ESG factors. 
Equinox is currently the only music specialist travel company to undertake sustainability assessments at this level. As an intermediary between client and operator, as well as between private and commercial flight operations, it is uniquely positioned to help clients make informed decisions.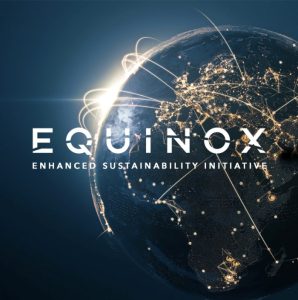 The company's three-tiered approach involves varying levels of operator analysis conducted by its Sustainable Flight Operations Consultant, Douglas Corbett. It is based on a unique 100-point sustainable flight operations checklist, taking into account technical and non-technical operational actions, human factors, corporate culture, flight planning and more.
Lower tier assessments look at a combination of existing carbon mitigation culture, ESG efforts, published technical data and other available third-party information – while middle-tier analysis goes a step further and involves direct contact with the operator. Top-tier assessment involves a much deeper flight operations review with expert analysis and direct flight observations, sustainability line checks, as well as an in-depth evaluation against real-world criteria such as culture, ground operations and crew training.
Among the driving forces behind the initiative is the growing demand for comprehensive ESG reporting. Equinox recognised that artists, film production businesses and other media organisations have an increasing accountability that can often be a challenging prospect when it comes to travel. To help clients address this challenge, the travel company is offering enhanced sustainability reports which help clients understand and communicate their chosen operators' efforts. 
Through EESI, Equinox also seeks to balance some of the 'greenwashing' and misinformation in the industry – including false claims, self-applied certifications, and an apparent over-reliance on carbon offsetting initiatives.
FOCUSRITE
With the goal of becoming sustainability leaders within music technology, Focusrite is looking to set the standard for industry peers to strive for and emulate. 
"There's no single decision that will solve climate change; it's going to take thousands of tiny choices by everyone involved," explained Focusrite Head of Sustainability, Andy Land. Having been in his full-time sustainability role for the past year, Land described how the only way the environmental impact of a company like Focusrite can be reduced is to measure its impact to the highest degree possible and set clear actions for staff to deliver on. As a result, Land cannot point to any one action or initiative, but instead claims that the most valuable thing is the collective work to change mindsets towards sustainable thinking.
Independently, Focusrite is creating a sustainability data toolkit that has enough bespoke information to work out the impact of a product over its lifecycle for every combination of brand, product, route to market, year sold, and country sold to.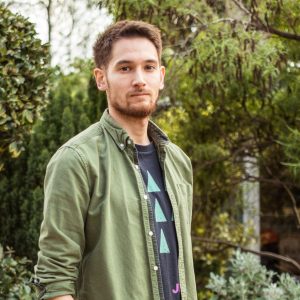 This tool is now beginning to show results, as it calculates more than 17,000 custom product footprint 'profiles', giving the company an insight on how its product footprints change if, for example, it is sold to a country with a more polluting electricity grid, or how the logistics footprint changes if air freight is used. 
Using this same toolkit to demonstrate how sustainability can be embedded in design, Land believes Focusrite can even measure products in development by extrapolating, allowing the company to reduce the environmental footprint of a product before it's manufactured.
Focusrite has already made steps by switching to recycled aluminium on Scarletts, which has a footprint reduction in the range of tens of thousands of tonnes of CO2 annually. Crucially, customers won't notice this change as the product quality is identical to before; this is something Focusrite is maintaining with every change to become more sustainable. 
"We'll continue picking off initiatives that reduce our footprint further, always being steered by the data to make the right decisions," stated Land. "Part of our strategy is that in addition to getting our own house in order, we need to be doing everything possible to influence the whole music tech industry to become more environmentally sustainable. Climate change is a global problem, so it's only through collaboration that we'll achieve the outcome that we want, and I welcome any other music tech companies that want to start a discussion with me directly." 
MEYER SOUND
The PA manufacturer's latest PANTHER Large-Format Linear Line Array Loudspeaker was Meyer Sound's first line array designed and engineered with sustainability as a primary goal. 
With the PANTHER, Meyer Sound has redoubled its longstanding corporate commitment to green touring. PANTHER was designed for a reduced carbon footprint in manufacturing, transport, and operation, and Meyer Sound's continuing focus on sustainability carries through to all future product development, campus facilities, technical support initiatives, and education programmes.

The design criteria for PANTHER required a substantial reduction in size and weight compared to prior generations of line array loudspeakers as well as at least a 20% reduction in power consumption to achieve the same acoustic output. The result is a system with a peak acoustic output exceeding 150 dB SPL and weighing less than 68kg. The reduction in power consumption is an important factor regardless of the application, whether touring or installed. What is critical for portable applications is the size and weight for truck packs, as cutting back even one truck can reduce greenhouse gas emissions by many metric tonnes over a North American touring schedule. 
All of Meyer Sound's line array solutions have reduced the amount of truck space needed through their integrated self-powered approach. The target with PANTHER was to take this further and produce a self-powered solution that would be lighter than some of the competitors' conventional systems. 
Development of smaller, lighter, and more energy-efficient loudspeakers is only one aspect of Meyer Sound's all-encompassing commitment to sustainable business practices. The company has been recognised as a Bay Area Green Business since 2016 – a distinction that reflects focused programmes to reduce energy and water consumption across the Berkeley campus, and to work toward zero manufacturing waste.
POWER LOGISTICS
Power Logistics was asked to design and implement a bespoke Energy Management Solution that incorporates an electrical package built specifically to meet the requirements of the Extreme E motorsport series. The series sees electric SUVs competing in extreme environments around the world which have already been damaged or affected by climate and environmental issues. The organisation is committed to having a net-zero carbon footprint by the end of its first season touring the globe. 
Key elements of the brief included monitoring all energy used onsite during the build, race weekend and breakdown; analysing the data and ensuring that energy usage was optimised at every stage; utilising the data gathered at each race to improve the system and make energy and carbon emission savings race on race; updating and introducing energy reducing technologies on the back of the findings; and reducing the amount of energy used and minimising carbon emissions wherever possible.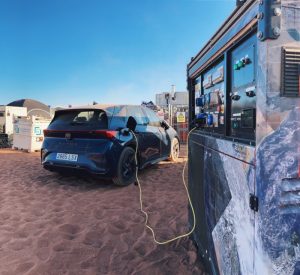 The solution devised by Power Logistics project managers and R&D team monitored energy and fuel usage of all the touring elements at each race circuit. This included the design and implementation of a bespoke distribution system that incorporates a smart energy monitoring system built specifically to meet Extreme E's requirements and to work in tandem with the Hydrogen cell technology for the car charging network. 
Constant monitoring of the energy and fuel usage of all touring elements at each race circuit was a cornerstone of the solution. Through detailed analysis of car charging and utility circuits, the company accessed and analysed vital information, in minute detail, both in real time and post-race. 
Energy saving solutions included generator sets run on sustainably sourced Green D+ HVO, which were the main source of site power before being replaced with hybrid battery power and solar panels. All site lighting was fitted with sensors so that that lighting only came on between dusk and dawn. 
The company's in-house-designed Battery Energy Storage System was used to power the Command Centre. This was tailored to take the loads from the Command Centre and was purpose built for the application. 
UNIVERSAL PIXELS
Award-winning UK-based video equipment supplier Universal Pixels has been servicing music artists globally in the delivery of their visually engaging tours and events for five years. The company has specifically honed services within theatre and live arts performance and most recently, Universal Pixels has been working as a trusted supplier to film and TV production companies in a market where it develops new virtual production workflows. 
As a pioneering video supplier working in several entertainment sectors, Universal Pixels has made numerous steps to show its commitment to tackling climate change. These have included maintaining 100% renewable energy use across all its locations; achieving a 6% reduction in emissions intensity per £1m revenue on its 2019 baseline; maintaining carbon neutrality through the greenhouse gas emissions reductions and the acquisition of high-quality carbon offsets; and embedding energy efficiency within the evaluation process when procuring new equipment.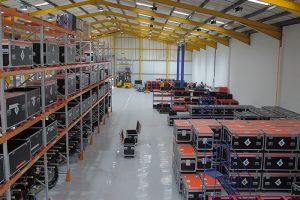 Commenting on its strategic dedication to green and conscious business, Commercial Director and Co-Founder, Phil Mercer said: "Tackling climate change is not something that any one company can do in isolation. That's as true for the events industry as it is for every other business. As such, we're taking an active role in how the wider production industry addresses the climate crisis through our involvement with Tour Production Group (TPG), The Sustainability in Production Alliance (SiPA), Music Declares Emergency and Albert, the environmental organisation aimed at reducing waste and carbon footprints in the TV and film production industry.
"We seek to share best practice and learn from others to drive change across the whole industry. Any carbon emissions remaining after our reduction efforts (termed our 'residual emissions') will be offset through the procurement of high-quality, PAS 2060-compliant carbon offsets. Over time, we will reduce our reliance on carbon offsetting by eliminating our residual emissions in other innovative ways as they become feasible or adopted within our industry."  
This article originally appeared in issue #270 of TPi, which you can read here.