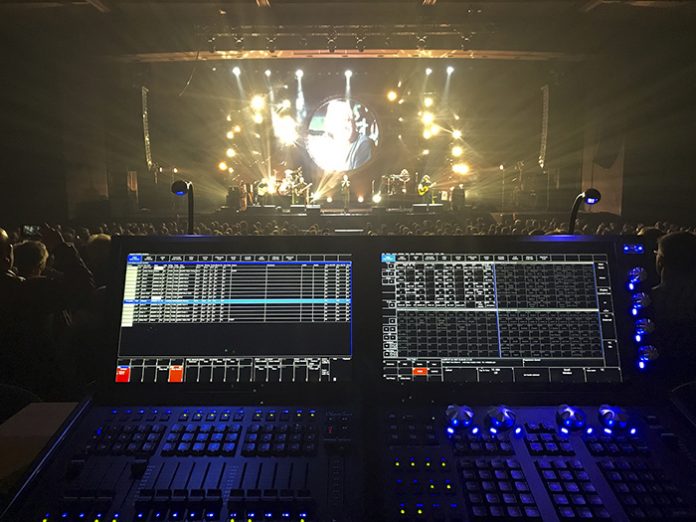 On Sunday October 29, 1994, Pink Floyd performed the final show of their Division Bell Tour at Earl's Court in London. It was the last time they would tour together. Some of the band's members have since passed away. Earl's Court was demolished. But, this legendary band's groundbreaking stage shows continue to shine in all their splendour every time Australian Pink Floyd performs.
Described by The Times of London as "the gold standard" in tribute bands, Australian Pink Floyd has appeared before over four million fans in 35 countries. Going beyond their spot-on renditions of classics like Another Brick in the Wall and Money, the band captivates fans by recreating Pink Floyd's description-defying stage shows. This immersive multi-sensory experience is very much on display in Australian Pink Floyd's current USA tour, thanks in no small part to a nine universe lightshow that Tom Mumby designed and controls with the ChamSys MagicQ MQ500 Stadium console.
Mumby, owner of Vivid Lighting Design, is using over 150 fixtures in the 2-hour-and-30-minute show. A 5 meter circle that holds 26 moving washes and frames a video wall serves as the centrepiece of his design. His main rig is also made up of six vertical ladders, hung at staggered heights from a 50ft truss. Complementing the lights on the ladder trussing is a collection of 26 washes, strobes and blinders that runs along the downstage edge. An additional eight washes are used as sidelights.
Rounding out the design is a 40ft front truss with spot fixtures that are used for key lighting and washes that are used to light signature Pink Floyd inflatables. The band uses a Teacher inflatable for Another Brick in the Wall Part 2, Skippy the Kangaroo for One Of These Days, and The Pig for Run Like Hell.
"The show aims to be a true likeness to Pink Floyd, not just in terms of the music, but also in production value," said Mumby. "A lot of time and thought is put into how best to portray the show in a unique way, while trying to stay true to what it was in days gone by."
Mumby credits his ChamSys MagicQ MQ500 Stadium with helping him realise this creative goal. Aside from saving him time when setting up his show and making changes to it, the new console has opened more creative options for him, thanks to its flexibility.
'Taking the MQ500 out on this tour has been great for a number of reasons," he said. "The higher resolution screens mean I can keep all of my group, position, beam and colour palettes on one screen instead of having to change view for every attribute. Having fewer buttons to push is always a plus. Combine this with the 4×3 execute buttons and the extra 5 playback faders, and you have a really quick and efficient console to use. I find myself recording macros such as SHIFT-Record or SHIFT-Include to the execute buttons, along with the usual strobe and mole bumps."
The flexibility of the ChamSys MagicQ MQ500 Stadium has made it easier for Mumby to customise his looks for the Australian Pink Floyd tour. "I think what is so great about the whole system is how it really lets you do things your way," he said. "Everything is changeable to suit your own style. I also like being able to create any effect from any palette and use it at a later date."
Mumby has found his console's Patch offset feature invaluable on the Australian Pink Floyd tour, as it saves him time updating positions each day. "I simply point all my spots or washes at the downstage edge, hit update and everything is done with minimal tweaking," he explained. "This feature has been especially valuable at our festival gigs, when time is nearly always tight."
Looking ahead, Mumby is eager to try the split/fan timing feature in his new ChamSys MagicQ MQ500 Stadium. "This is something I have started to play with and sneak into the show," he said. "With very little effort, I can create some nice one shot scrolling fades or colour changes across the whole rig. Working for a band that celebrates Pink Floyd, this kind of free-flowing creativity is important to me."