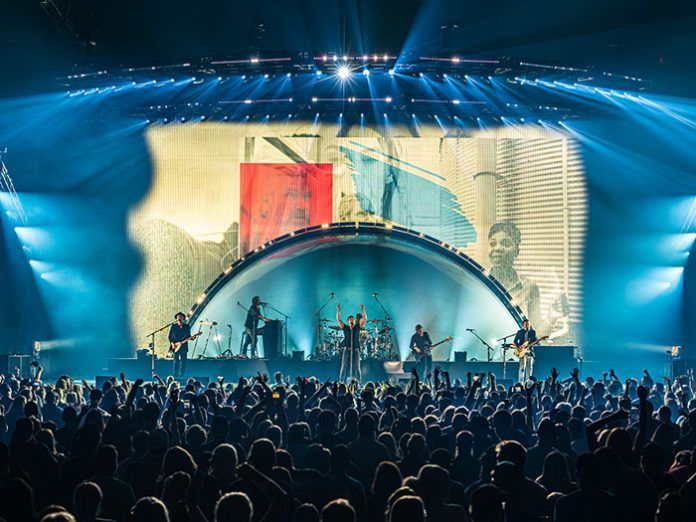 The mood ring is utilised as a metaphor for Matchbox Twenty's Slow Dream Tour which concluded its 54-show run at Chicago's Hollywood Casino Amphitheatre. The Playground Design Studio created the mood ring image with a large inflatable semi-circle that arches over the upstage deck and is backed by a video wall.
Accenting the 3D quality of this "ring" is a collection of lighting fixtures, including the CHAUVET Professional Maverick Force 2 Profile, arranged along angled stage left and stage right horizontal truss structures.
"Things that felt important to us were that the show feel minimalist and architectural. It had to exist as an environment in which the band lived in. The sphere gave us the environment, and the trussing gave us the minimalism. That together was the architecture," explained Matchbox 20's guitar player and Creative Director Paul Doucette, who worked closely with Production Designers Sooner Routhier and Curtis Adams of The Playground.
The production team developed the Mood Sphere with an opaque to luminous gradient, which softens and texturizes the light and colour emanating from it giving the show's visuals the appearance of being "dream-like." The four moods consisted of joy and celebration, love and connection, peace and harmony and nostalgia.
Contributing to this colourful aura were the 28 Maverick Force 2 Profile fixtures, positioned on overhead truss as well as the angled side structures. Like the rest of the lighting and video rig, these units were supplied by Solotech.
"They were one of the main workhorses in the rig," Routhier said of the fixture. "Our associate Lighting Designer and Programmer, Nick Van Nostrand and lighting director Fraser MacKeen cued the Mavericks to create a variety of looks to go along with the music."
The deeply ambient video images of the Mood Sphere were developed by content creator Raw Cereal and run by Video Programmer Joshua Stuart. The Raw Cereal team of Anders Rahm, Grant Draper, and Cort Lawrence said they followed the production designers' vision to "build imagery that was abstract, while following the storyline of our collective mood ring."
The Raw Cereal team explained: "The sphere allowed us to think outside of normal boundaries of screens and live within a fun new structure, overall building an art piece instead of boxes of video," they recounted. "We saw that this approach helped the lighting come to life in a big way, not being overpowered by video."
Looking back on the genesis of the show, Doucette, a founding member of Matchbox 20, described: "Our view of a show is that just like the structure of a song or a film, it is very much a story you are telling an audience. It's a journey and our job is to be the guides."
"The moods gave us a structure to work within to do that. It starts with the set list obviously. How we want the flow to go," concluded Doucette.  "We knew we wanted to start with joy and celebration to invite the crowd in and end with nostalgia so that they left feeling the 27 years we've all spent together. Once we got down to production rehearsals, we saw that in order to get us there, we had to break away from the mood structure slightly. But having that structure gave us a box to work in, and when we left it, we did so by choice. It felt intentional. Curtis, the Playground team and the Raw Cereal guys brought that intention tenfold. Without a doubt some of my favourite group of humans I have ever worked with on a show."