The O2 arena has announced it will host its first live music event after eight months of dormancy, with London-based band, Squeeze set to play to socially distanced fans on Saturday 5 December 2020 (now rescheduled to 27 February 2021). The announcement marks a major step forward in getting the UK live event industry back up and running following the closure of live music venues and ban on mass gatherings.
Speaking to TPi following the announcement, The O2 arena Vice President and General Manager, Steve Sayer reflected on a turbulent eight months. "We have been effectively closed since March, which has been tough mentally and challenging to figure out a way through this strange time," he reported. "We have had some moments to be proud of – the NHS transformed the arena into a training facility for six weeks during the pandemic for the Nightingale Hospital and we were pleased to be able to provide them the space free of charge. We also opened up the arena to the public for Backstage Tours, which were a big success. However, many of the team are on furlough, and the existing team have been working around the clock to ensure we can, finally, return to live."
Squeeze's socially distanced event will see The O2's capacity reduced from 20,000 to 4,700, with a designated seating configuration in line with the UK government's 1m-plus guidelines. Seats will remain empty between each group and one-way routes have been installed throughout the arena and concourse.
"We have been working incredibly hard to bring back events at The O2 arena and put measures in place to ensure our fans will have a safe and COVID-19 secure experience," Sayer commented. "At the moment, we're only able to host under a quarter of our capacity, so this is not a long-term solution for us or other venues and we continue to press the government for targeted support and guidance to get the live events industry and its supply chain back on its feet."
Currently sitting at stage four of Arts Council England's guidance for performing arts, live venues and music (at the time of writing), the latest guidance permits venues to operate in a COVID-19 secure way with social distancing at the heart of the proposition.
"We are incredibly confident that the measures we've put in place will ensure a safe and enjoyable experience for audiences," Sayer said, optimistic about the coming months. "The band are really looking forward to playing live and we're confident that the event will sell out, which will be an amazing end to an incredibly difficult year."
To ensure the customer experience is contactless, all ticketing will use AXS Mobile ID via The O2 venue app, which also enables pre-ordering of food and drink as well as merchandise to reduce queuing with fast collection lanes.
"This gig is only a small step in the right direction to building confidence with fans, promoters and artists and demonstrating to the governing bodies and Public Health England that events with fans can happen safely," Sayer explained, acknowledging the pitfalls of the project. "We understand that it's not a viable economic model, but our view at The O2 arena is that we're trying to return to live and push the agenda for full-capacity shows, and we've got to start somewhere."
Sharing a storied history with Squeeze, Hawthorn, part of the global PSAV/Encore group, has supplied equipment for several of the band's previous tours and performances. "It's amazing to be working with them again on The O2 arena performance," Slater enthused. "It's the first live music event in the venue for eight months and it's a major step in getting the industry up and running again, so we're honoured to be part of it."
Hawthorn's Concert Touring division is working closely with Lighting Designer, Daniel Bocking to supply lighting equipment to his specification. This includes a rig of Martin by Harman MAC Viper Profile, Claypaky Sharpy Wash and Martin MAC Aura XB fixtures. A Hog Full Boar 4 console is chosen for control, to be controlled by Lighting Operator, Martin Brennan.
As well as supplying lighting, Hawthorn is also involved in supplying rigging equipment including Prolyte S52V, X30V Truss and Prolyft Aetos LV Motor Hoists. With video forming a key part of the tour's production, the firm will supply 80 panels of GLUX LED.
"As anyone who works in the live music and events industry understands, this is not just a job – it's a lifestyle," Slater remarked. "Our team is all extremely passionate about what they do, so with their industry put on pause for most of the year, it's been a challenging time for many. With crew used to working onsite – often on back-to-back jobs during busy periods – it's been a huge lifestyle change, and everyone has missed the camaraderie and buzz that comes from live events. It will be a great moment for the crew to get back to doing what they love."
Health and safety of clients, team members and suppliers, Slater said, are always of paramount importance. "We created a plan earlier this year to ensure our team members were ready for returning to work in the 'new normal'. This included in-depth training programmes and new, enhanced health and safety protocols to ensure the safety of our clients, colleagues and suppliers."
The team developed MeetSAFE, a set of guidelines that address event formats, equipment packages, and recommendations that detail how to reduce risk, increase confidence, and promote health within the industry. "This included room design, traffic flow and technology considerations, along with enhanced cleaning procedures," Slater explained.
The O2 arena has purchased electrostatic foggers to deliver a charged antibacterial spray across the venue that will envelope all surfaces, providing protection for up to 30 days, with a heightened cleaning regime before, during and after the event.
Visitors will only be allowed to bring a single clear bag into the arena and the wearing of face coverings will be mandatory, except when eating and drinking within the seats. The show will end by 10pm to allow fans to leave the site safely at a distance. With the PPE in place, the response, Slater claimed, has been amazing. "Everyone wants to see the industry back up and running, so this is a great move in that direction," he commented.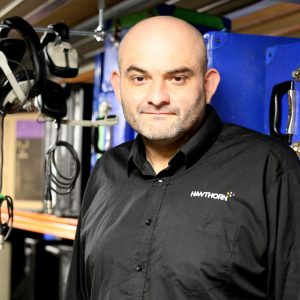 "We're saddened to hear about the nationwide lockdown at the start of November but we remain hopeful that the event will go ahead and that the industry can get back to doing what it loves as soon as possible."
Sayer concurred; he believes that the UK live events industry is truly "world beating", and said as that as long as the UK government support the sector with a targeted support package for employees, a government-backed insurance scheme to build confidence with promoters as well as an extension to the VAT cut beyond next April, he maintains that there is a bright future on the horizon.
"It's going to be tough a few months ahead, and I fear for many venues and huge parts of the supply chain," he said. "Big and small companies are going to be significantly impacted and that is where the government has to step up to protect this world-beating, world-leading industry."
Squeeze, who hail from South East London and have performed at The O2 arena's smaller venue, indigo at The O2 arena, multiple times, were keen to be part of the project. "The O2 arena was designed to give artists and fans the best live music in the world and we look forward to doing that again with Squeeze," Sayer said. "As The O2 arena returns to live, it's fitting that a band from the area are the ones to reopen our doors to the public once again. The entire team is excited to see them on our stage."
This article originally appeared in issue #255 of TPi, which you can read here.