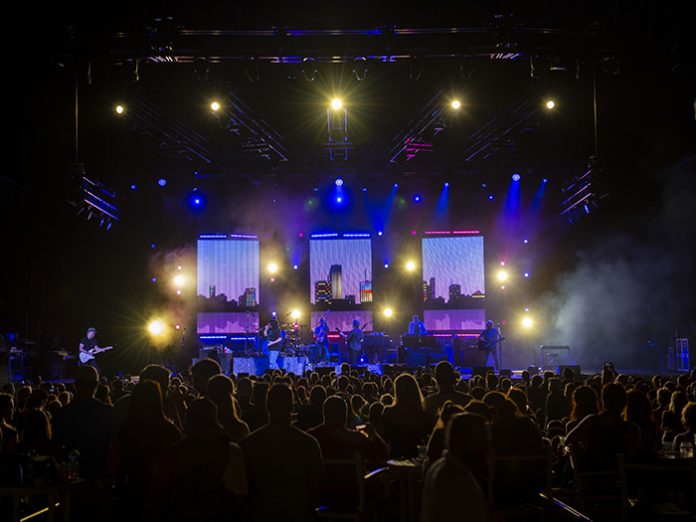 Lighting Designer Mike Zielinski designed the lightshow for The Counting Crows 2018 25 Years and Counting tour, supported by Chauvet STRIKE 1 fixtures supplied by Upstaging, Inc.
"With 25 years and seven albums of music, we have a very large catalog of songs that can be played on any given night," said Zielinski. "This creates a need for a diverse, flexible rig. I like to have a lot of color palettes and video content to keep up. I also need versatile fixtures, which is why I like the STRIKE 1s for this rig. They fill a wide range of roles for me, like accent lighting, backlighting and blinders."
At times Zielinski used his Chauvet STRIKE 1 fixtures with amber shift to create different moods for more reflective songs or for those moments when frontman Adam Duritz reflects on the band's history. Zielinski also called on the 230W LED fixtures for audience lighting. "There are many fans who have turned out for Counting Crows concerts every year for the past two decades, so the connection with the audience is important," he said. "The band feeds off the energy of the crowd."
Zielinski positioned 1 STRIKE 1 fixture at the end of each piece of a 5 finger truss structure. He uses these units for audience lighting. Another 8 Chauvet STRIKE 1 fixtures are staggered around a video and lighting wall structure and are used for specials, backlighting and eye candy.
In addition to having designed the show, Zielinski is running the boards for the 48-city tour. Although he turns the Chauvet STRIKE 1 fixtures up full blast for ballyhoo moments, he is doing little busking, given the size of the show, which has 60 songs programmed.
The warm white glow created by the Chauvet STRIKE 1 and its emulated red shift, which mimics the dimming of incandescent lighting, helped Zielinski evoke throwback moods during the show's retrospective moments. He incorporated "tiny bits" from each of the Counting Crow tours that he's been a part of over the years into his 2018 design.
"There is an element of nostalgia in the show to go along with the forward-looking music," said Zielinski.