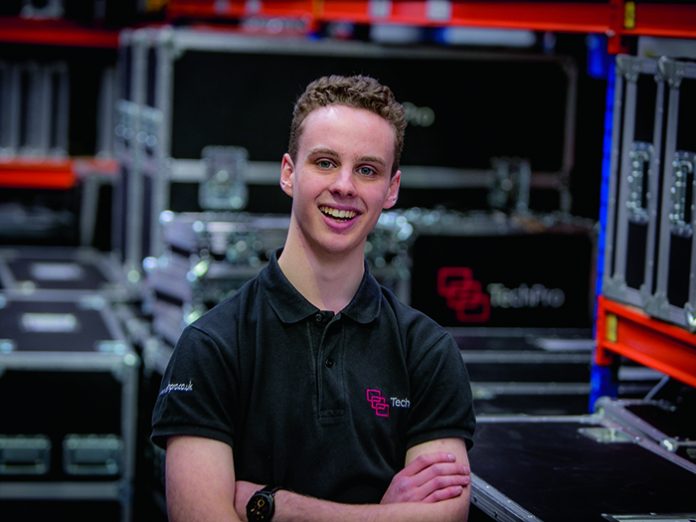 Tamworth headquartered TechPro, provider of lighting, video and sound services for the live events industry has promoted Henry Pratt to the role of Project Co-Ordinator, to help meet growing demand for the firm's specialist services.
Committed to helping develop the careers of all its people, TechPro recognised the former Returns Technician had both the attitude and enthusiasm to be successful in a more senior position, with greater responsibility.
Senior Project Manager Adam Taylor commented: "In his new role, Henry will primarily support our Project Managers with all aspects of the department's work, ensuring flawless delivery of live events for our clients.
"It's a development role within the business and offers a real opportunity for future progression within the growing team here at TechPro.
"As part of the role, he will be responsible for coordinating and managing significant elements of the delivery of our AV & technical support services to meet our client's event requirements, from specifying and planning to resourcing and implementation.
"Henry is a welcome addition to the project management team and we are all committed to helping him every step of the way as he climbs the career ladder here at TechPro."
Commenting on his promotion, Pratt said: "I recognise this is a great opportunity for me to learn from experienced, talented colleagues like Adam, who know all there is to know about project management in our sector.
"I'm looking forward to getting to grips with interpreting the detailed client briefs we work to and specifying the required audio, visual, lighting and staging equipment. I hope to get out on a few site visits with the team and help with the production of 2D AutoCAD plans our technicians need.
"Processing orders and dealing with third-party suppliers whilst working to set budgets will be a major part of my new role, which is exciting and nerve-wracking in equal measure, but with the support of my mentor Adam and the rest of the team, a challenge I'm ready for."
Taylor concluded: "For me personally, it's great that TechPro show such genuine commitment to the career development of all its people and nurture the talent within the business. It's really encouraging to see talented colleagues like Henry, given the opportunity to fulfil their potential."