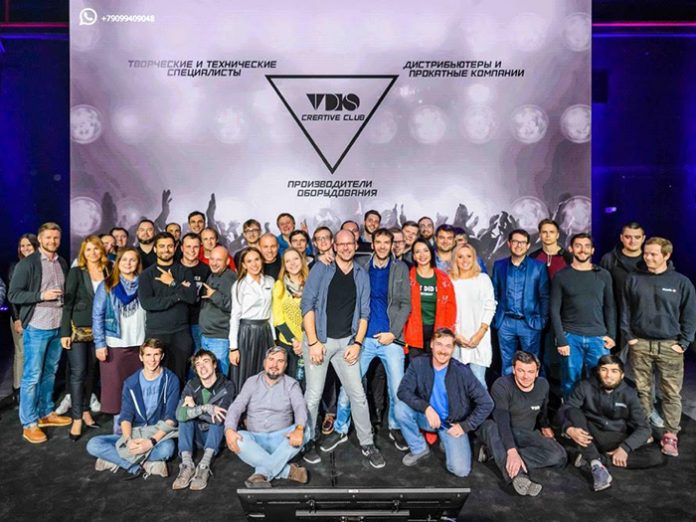 Russia is an expanding market for the entertainment technology industry, so Ayrton welcomed its showcase in Moscow at the recent Prolight+Sound NAMM Russia 2018 – an astounding interactive lightshow created by its commercial partner, TDS-Pro.
TDS-Pro is a leading show design company which specialises in stage design and technical production of TV projects, concerts and major sporting events. Its incredibly creative designers use Ayrton lighting fixtures in its designs.
This was reflected in the stunning lightshow which used the latest technologies to combine artists, Ayrton lighting fixtures, video, robots and augmented reality into a dramatic storyline.
In it, a robot, composed of an LED screen and Ayrton MagicBlade-R fixtures located on a robotic arm, lay embedded in an LED wall and DreamPanel-Twin units where it remained hidden from view.
During the show, the lighting fixtures appear to start to work incorrectly as if struck by a virus. The engineer from TDS-Pro tries to solve the problem and starts to load the antivirus. But at that moment the robot suddenly comes to life, emerging from the display with an image of the monster appears on the LED screen.
A small video camera located on the robot homes in on the spectators, displaying their images on side LED screens to create the feeling that the robot is watching and hunting them. Engineer and robot fight, using light rays as a weapon until the antivirus is loaded and the fixtures start working correctly.
The futuristic environment was brought together by a wealth of Ayrton fixtures including 32 MagicPanel-FX, 21 DreamPanel-Twin, 17 MagicBlade-R, Mistral-TC, Ghibli, a Merak and MagicBlade-FX. These were supplemented by the industrial robot arm, movement tracking and full 3D video and light mapping, and custom video content and sound. The whole came together to create a futuristic and sinister storyline that showcased all the products in dramatic fashion to illustrate how lighting, sound and video can be used to structure a complete story into a work of art.
The show quickly made the TDS stand the most popular one at the show with people arriving well in advance of the show in order not to miss it.
"The show was a great success at the exhibition," confirmed Konstantin Gerasimov, CEO of TDS. "After watching it, spectators said that this was a new level. They thought they were in the future. And this only proves that with the help of Ayrton fixtures, you can realise the most challenging ideas and really surprise the spectator."
"We are delighted at how well TDS showcased Ayrton with this dramatic representation," said Ayrton's sales manager for the region, Simon Gasch.
"It was a truly unique piece of imaginative engineering which deserves to be seen beyond the bounds of the trade show. TDS really understands the depth of creative possibilities that can be achieved with Ayrton lighting fixtures and have the imagination and the ability to exploit them to the full. We couldn't wish for a better display to bring Ayrton to the attention of the Russian market."
TDS Creative Club
The drama at Prolight+Sound NAMM Russia was quickly followed by a TDS Creative Club event organised and hosted by TDS-Pro at the Glavkino television complex in Moscow. TDS Creative Club was created as a place where professionals of the industry can communicate in a friendly atmosphere, share experiences and get acquainted with new stage technologies and equipment. It was attended by over 60 delegates.
The day brought together creative and technical specialists from the show industry, representatives of rental companies, manufacturers and equipment distributors to discuss lighting. TDS invited Ayrton to introduce its new fixtures and discuss lighting design trends to the gathering of knowledgeable professionals.
"The Russian show industry market grows rapidly from year to year and the level of events is getting closer to world standards," said Konstantin Gerasimov, CEO of TDS. "Experts need new tools to complete tasks and they are looking for equipment and technologies that can surprise the spectator. We are sure that the creative and multifunctional Ayrton fixtures are exactly what the Russian show industry needs.
"We ourselves use Ayrton fixtures in our projects. They work extremely efficiently in TV studios and at concert and sport venues. Our company was the first to bring the legendary MagicPanel-602 to Russia. That was back in 2014, and since then Ayrton fixtures have become our favourite."
Ayrton's Simon Gasch, spoke about the brand's history and the latest technologies used by Ayron in their manufacturing process. He was joined by the TDS team who talked about its lightshow at Prolight + Sound NAMM Russia 2018 and, via video link, by Jerry Appelt, world-famous lighting designer, who incorporated over 700 Ayrton fixtures into his design for the Eurovision Song Contest in Lisbon earlier in the year.
TDS Creative Club members were able to enjoy an interactive Q&A session with Appelt and hear him reveal the secrets of creating large-scale shows and share his experience of using Ayrton fixtures.
Simon Gasch: "The day was a great success with a high attendance of engaged professionals. I was impressed with the highly technical nature of the questions from this knowledgeable audience. It is a reflection of the esteem that industry professionals have for TDS and its work. The standard of professionalism at TDS-Pro is the highest I have ever seen.
"They are 100% perfect in everything they do and we are very happy to have found them and have them as such a creative commercial partner. They work hard to make Ayrton more accessible to the Russian market and find inventive ways in which to raise the profile of the brand in Russia.  They are so well suited to extracting the creative potential of Ayrton units – it's a partnership for which our fixtures were designed!"
Video footage of TDS-Pro's stunning Ayrton show at Prolight + Sound NAMM Russia 2018 can be viewed here.