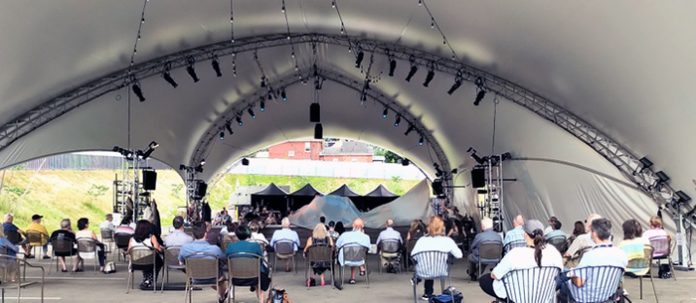 When Canada's Stratford Festival was forced to reinvent itself outdoors to meet the challenges of pandemic gathering restrictions for 2021, its need for wireless audio grew greatly in importance.
Technical Director, Greg Dougherty; Head of Sound, Mike Duncan, and Associate Technical Director, David Campbell consulted with System Designer, Peter McBoyle, the choice was clear: three Lectrosonics Venue 2 six-channel receivers, 16 ultra-compact SSM transmitters, and four HHa handheld wireless mics.
"We had never done productions outdoors, where you have no control over the ambient noise," said Dougherty. "So, a core decision was to mic every cast member in every show — which we usually only do for musicals. The small size of the SSMs made that more palatable for cast members who aren't used to being mic'ed at all."
COVID-19 gave the team an additional reason for their long-standing practice of fitting each actor with two transmitters as a failsafe. "Our first use of SSMs was for A Chorus Line in 2016, long before the pandemic," recalled Campbell. "You had actors in revealing costumes, onstage for the entire show with no intermission. The micro size was a real game-changer for us, because the actors just loved them so much that we realized we needed to up our SSM inventory."
"From a COVID-19 standpoint, double-packing means we know we won't have to get at the actors in the middle of a show, and with the SSMs being so tiny it's easy to double-pack everybody," added McBoyle, who had long been a fan of Lectrosonics' sound quality. "I was an original beta tester for the SSMs via Colin Bernard from Lectrosonics Canada. Before that, he'd given me a demo of some SMQVs for a show in Toronto. The sound was so open, it was like the mics were on cables! I then specified them for a Broadway show I wound up doing that had a lot of wireless musical instrument mics — DPA and that sort of thing — sounded amazing through them, with no artefacts from companding."
Beyond size, another feature that recommended the SSMs was off-brand compatibility, which was a boon to the team before they purchased their Venue2 receivers. "Although we have a decent operating budget, we can't just spec a new system for every show like they do on Broadway," explained McBoyle. "When we got all the SSMs for A Chorus Line, it was a huge benefit that we could run some of the SSMs in an emulation mode and use them with our old receivers until we could find the budget for more Venue2."
Outdoors, the SSM/Venue2 pairing has exceeded expectations. "We're running up to 18 channels at a time," said Mike Duncan, "and with paddle antennas on our Venues, have had crystal clear audio with no range issues."
"This has been at the SSMs' lower output power setting, 25 milliwatts," clarified McBoyle.
Speaking of RF, it falls to Duncan to coordinate frequencies, a task made much easier by Lectrosonics' Wireless Designer software. "I've been using Wireless Designer to do a scan and then deploy our results throughout the system. Once we've done the scan, we coordinate the transmitters."
Duncan also looks forward to using Wireless Designer when the theatre company is able to tread the boards in the newest of their four theatres, the $70-million Tom Patterson Theatre on the bank of Stratford's Avon River.
"In the new Tom Patterson theatre, which we have yet to use, the RF rack is on the opposite side of the building from my office. Since it's all new, we have Cat6 Ethernet, fibre, all of that. One of my most excellent experiences was that I was able to plug in, deploy all the frequencies, and set up the receivers and transmitters right from my desk, without even going to the RF room. This means that once we go back indoors, I can monitor everything — range, frequency response of mics, all of it — from my office without running around. That's important because unless it's my production specifically, I have other things to take care of, but can still keep an eye on the show."
"Historically we've run a lot more SSMs," Campbell said, pointing to the necessity of easy frequency planning. "Current COVID-19 restrictions limit the cast to eight members, but back on A Chorus Line we had 36. On Billy Elliot we had as many as 52 channels."
The Stratford audio team has long known that any product — whether a play, musical, or piece of equipment — is only as good as the people behind it. In this regard, Lectrosonics wins their standing ovation. "I've always found them quick to respond, open to our feedback, and proactive about correcting any issues," said McBoyle. "It's been very solid. We're looking forward to getting back inside next year and really using all the Lectro we've purchased in situ."
"I'm mainly the business guy," added Dougherty. "Colin Bernard was so great at answering our questions. The folks at Lectro are intuitive enough about our needs that they anticipated issues as opposed to going for the quick sale. We are a theatre company with very high standards, so that honesty is appreciated. We're thrilled with how much Lectrosonics values us as a customer."