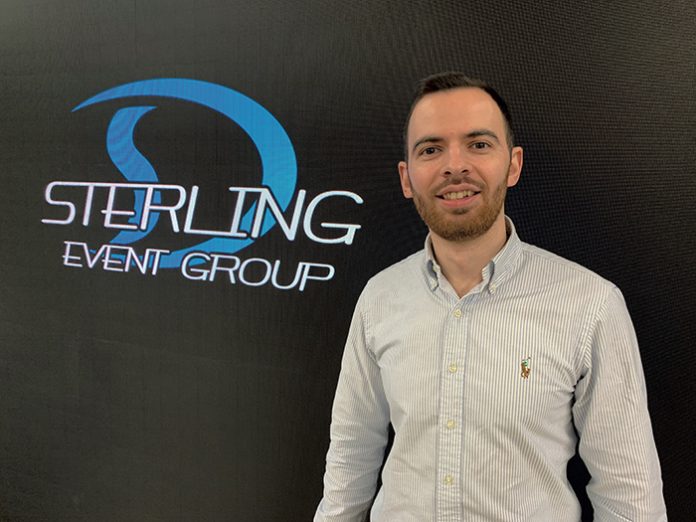 What sparked your interest in the events sector?
"I grew up with events. From as long as I can remember, I was roadie for my Dad's mobile disco. There would be production companies involved on larger gigs, which exposed me to the world of technical production, and I knew that was what I wanted to do. I never really played with toys – I was more interested in speakers and par cans."
What are Sterling Events Group's goals? 
"I set up Sterling Sound while I was in my last year at school. We had a small amount of kit that I had built, so I sent out some hire price lists to contacts I had met while working with my Dad. The original goal was to provide PA systems for corporate events. We soon began supplying lighting, vision and staging to all sorts of events. At this point, the company name began holding us back, so we rebranded to Sterling Event Group. I could never have imagined then, where we would be now 20 years on."
What are some of your favourite moments? 
"There have been so many highlights and milestones over the years, from successfully delivering our first international event for a major brand, to providing production to pop stars. No two days are the same, and that's what keeps things exciting."
How has the company expanded over the years? 
"It doesn't seem that long ago when we took on our first premises and the £100-a-week rent was daunting. We now occupy several units by Manchester Airport, with facilities designed to accommodate our specialist audio, lighting, vision, rigging and custom-build stage and set departments. The team has also grown somewhat – we now employ 50 full-time staff and we're looking to expand this further in the coming months."
What's next on Sterling Event Group's schedule? 
"January will be our busiest to date, featuring a European roadshow for a beauty brand, a large-scale corporate awards ceremony, conferences for the government and even a party for a Premier League footballer, to name but a few. Alongside delivering these productions, there will be further investment in kit and further development of our custom-build staging and set department."
This year was your first time supporting Production Futures. What did you think of the event?  
"I wish it was around when it started out! It was a great event with some really bright young people in attendance – many of whom were genuinely looking to start a career in our industry and keen to call upon the experience of others. I think it's really important that we all make an effort to give opportunities to the next generation as the industry needs them."