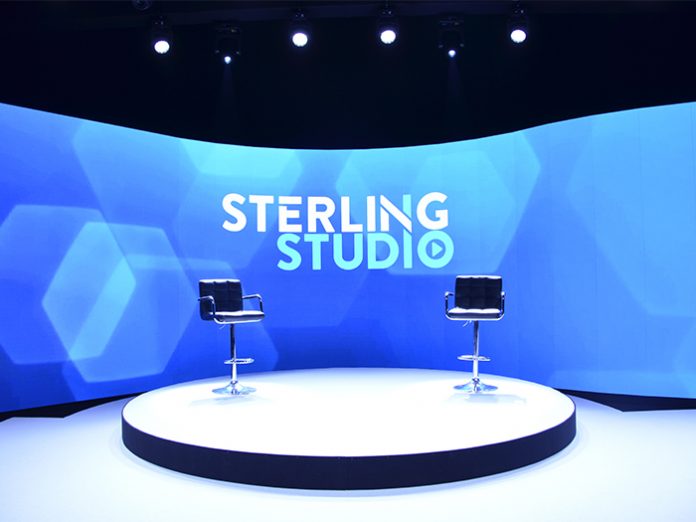 As the events and AV industries face increasing uncertainty as to when 'business as usual' will resume and live events can take place again, Sterling Event Group has announced the launch of their new state of the art Sterling Studio Space. This comes at an instrumental time for the industry as Sterling works to reassure their clients that there are a multitude of alternatives to the traditional live event. 
"At this current time whilst live events are on hold, we wanted to offer our clients a solution to continue communicating, engaging, educating and entertaining. The studio allows clients to present their virtual events at the same high standard and production values they would expect from a live event." said Richard Bowden, Founder and MD. 
As a company that has specialised in cutting edge AV technology for the past 20 years, and an impressive portfolio of events under their belt they felt it was only natural that they responded to the current climate in this way. Their response began before lockdown as they set out to combine their very best technology with their industry expertise to curate a dynamic offering of virtual event solutions. 
"Our offering includes three levels of studio so should suit most requirements and budgets and there are many ways in which we can customise to meet a client's requirement. This combined with our customisable web platforms allows us to provide a really strong, comprehensive virtual offering and we are really excited to be supporting a range of events in the coming months" 
Our most comprehensive offering, The Sterling Studio+ a 230sqm black box space is kitted out with an impressive 16m x 3m Absen Polaris 2.5mm LED screen as a curved digital backdrop; with the accompanying vision, audio and lighting technology as below: 
Vision: 
Panasonic 65" presenter comfort monitors
Barco E2 screen management system with an EC50 controller
Avolites Ai media servers
Camera system incl Panasonic PTZ remote cameras
Audio:
Yamaha QL1
d&b E6's for monitoring
Sennheiser radio microphones and IEM's for presenter earpieces
Green Go Comms system
Lighting:
Avolites Tiger Touch II
House Moving light package including Clay Paky Axcor300 spots and 20 Chauvet R2 wash. 
The specification can be amended and upgraded to suit from Sterling's vast onsite stocks. 
All appropriate safety measures have been taken by Sterling to ensure that the Sterling Studio offering is being delivered with the utmost awareness and consideration for safety and wellbeing.