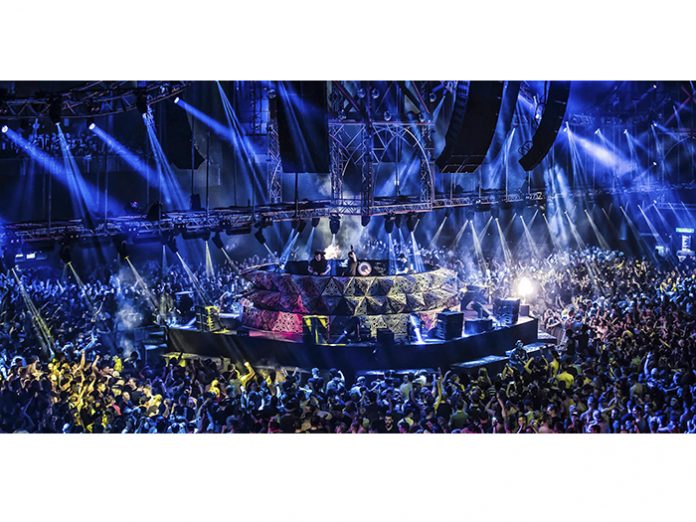 Q-Dance, the Dutch company behind Qapital, has benefitted from Stageco Nederland's involvement since its launch in 2013. Playing to an audience of 12,500 at the Ziggo Dome in Amsterdam, the latest edition on 31 March 2018, features acts including Phuture Noize, Sub Zero Project and Hard Driver, with Q-Dance's Jeroen Beverwijk; hiring Stageco to construct and supervise a 6m diameter turntable as the foundation of the DJ stage.
Michiel Makkink, Stageco Nederland's Account Manager, explained: "Our turntable is fundamental to the production because the DJs perform in the middle of the Ziggo Dome. Our crew [led by Arjan Bettink] take care of its rotary control during the show and, as the partying carried on through to 7.00am, they rely on their ear plugs!"
He continued: "Q-Dance want to give their fans the opportunity to dance which is why Stageco also builds two large, 50m+ wide dance platforms within the venue's grandstands so that the visitors in those areas are not restricted by the seating."
Rigged above the DJ stage and extending to the ends of the arena, Qapital 2018's iconic bridge design required Stageco to construct an additional VIP platform on the long side of the grandstands this year, rather than on the short side. "We, therefore needed to build a few metres higher in the grandstand, behind the dance platform," said Makkink.
Following the event, Jeroen Beverwijk of Q-Dance commented: "Our experience of working with Stageco is always positive. Their delivery of special products such as the turntable and various elevators, aided by their particularly quick and efficient load-in and build, provides us with a complete solution. I was especially delighted with Stageco's approach to the new VIP deck which was well received by the audience."
Stageco Nederland is also proud to maintain a close association with another Q-Dance event, the Defqon.1 festival, whose 2018 European edition takes place in Biddinghuizen over the weekend of 22-24 June 2018.