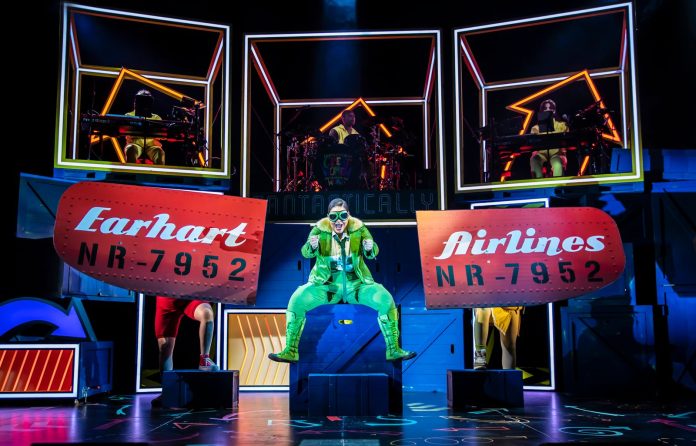 Produced by Kenny Wax of SIX fame, the new pop musical, Fantastically Great Women Who Changed The World opened in Liverpool in April 2022 and is currently in the midst of a nationwide UK tour with West End aspirations. Described as an "inspirational and empowering celebration of our strong sisters from history," the show is based on the award-winning picture book by suffragette descendent Kate Pankhurst.
Dramatist Chris Bush and Number 1 hit songwriter Miranda Cooper (Girls Aloud, Kylie Minogue) have adapted it into a bright, exciting musical for young people that celebrates some of our female icons in a contemporary, pop context. Sound designer, Rob Bettle, designed a front-to-back EM Acoustics audio system based on EM's most recent development, the acclaimed Reference Series loudspeakers.
Bettle explains that his first experience of the Reference Series was for the stage show of Dan Brown's blockbuster novel The Da Vinci Code which is also currently on tour throughout the UK. Sound Quiet Time worked closely with Ben and Max Ringham to design the system for the tour. "To be perfectly frank, we had originally specified something else, but Phil Hurley from Stage Sound Services who was supplying the audio production gear for the show – as indeed they are for 'Fantastically Great Women' – convinced us to try out the R8s from EM Acoustics," recalled Bettle. "I'll admit that we were sceptical, but we all trust Phil's judgement, so we went along with it.
"From the moment we turned them on, we were blown away. Straight out of the box with no EQ whatsoever, they sound great. Frankly, I was surprised – but totally hooked!" Eight R8s and four S-18 subwoofers were used for the main system plus four EMS-122w on stage as FX speakers. "The Da Vinci Code is a play with music and amplified speech, so not a musical as such, but having heard the R8s, I couldn't wait for the opportunity to try them out on a full musical production," he said. "They're incredibly compact with fantastic dispersion characteristics for theatre – it was a real eye-opener for me. A visit to EM's factory where Sam Clarkson (the other half of Sound Quiet Time) and I were able to listen to the R10s and HALO-C as well as see all of their design and manufacturing process was also very enlightening."
Consequently, when Bettle was asked to design the systems for Fantastically Great Women, it was the perfect opportunity to specify a front-to-back EM Acoustics system based on R10s and R8s with S-18 and S-15 subwoofers supplemented by a plethora of EMS Series loudspeakers for frontfill, nearfill, sidefill, delay and foldback duties.
"The brief from Miranda [Cooper] was that the system had to be bright, poppy and loud but with extremely intelligible vocals as much of the storytelling is done through song," he explained. "Reference Series loudspeakers simply shine in this application. The system sounds fantastic; it's extremely easy to manipulate – easy to EQ, very quick to get it to sound how I want it to sound. In fact, it was pretty solid after the first tuning session, you really don't need to do much to it. Physically and sonically it is extremely easy to work with – that is so important in a touring system, especially as this show is only going into three-tier theatres, so quick and easy is good!"
"I believe that EM Acoustics is a company to watch right now," concluded Bettle. "The addition of Reference Series to their portfolio has clearly moved them up to the next level in terms of product offering, and what's more, they can manufacture and deliver at pretty short notice which other manufacturers are struggling to do under current circumstances. I'm delighted to be working with them now and look forward to a productive relationship in the future."