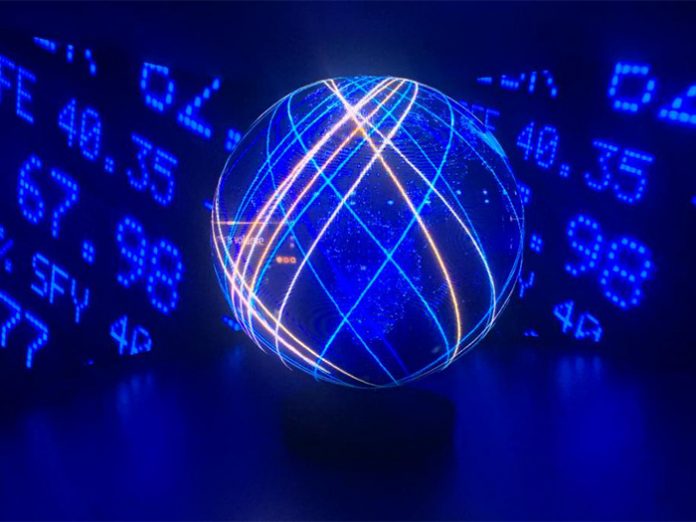 SphereLabs has launched a unique, futuristic LED display and interactive solution for the entertainment and corporate markets, called the PZ Sphere.
Standing two metres tall, the PZ Sphere's precision-engineered frame is seamlessly covered with a tessellated arrangement of bespoke LED panels at a high-resolution 3mm pixel pitch.
It has been meticulously designed by SphereLabs, which is a new-to-market collaboration between Light Initiative's Bryn Williams, and Dave Stevens and Steffan Jones of production and design company, Production Zync.
The company believes the product has the potential to add a new 'wow factor' to a wide range of entertainment environments, and will appeal to a wide range of customers, including production companies, agencies, record labels, producers, production houses, directors and designers.
In addition, it has the potential to increase visibility and engagement with displays in settings such as airports and attractions, while with added interactivity, it can also as a unique touchpoint 360˚ information resource for information or navigation in venues such as shopping centres.
"We're thrilled to bring the PZ Sphere to market," said Williams. "It's the result of many months of input from talent at the forefront of LED sphere innovation and has the capability to transform the way information is displayed and experienced."
SphereLabs says it is ready to roll out the PZ Sphere in both sales and hire capacities. "With hire, we will manage, deliver, and execute the A to Z of technical production for anything live, be it an event, a concert, a sport half-time show, a tour, TV, music and so on," Williams continued. "That can include not only the sphere itself, but the lighting, audio, video, staging, special effects, trucking, logistics and crew – a true end-to-end offering. Alternatively, the sphere element, with the associated resources, can be provided to another supplier as part of a production package."
The PZ Sphere is the first-born spin-off of superstar DJ Eric Prydz's EPIC HOLOSPHERE, which debuted at the Tomorrowland festival in 2019. The 8m tall, video-mapped 3D HOLOSPHERE was a triumph of millimetre-accurate precision engineering, created by a multitude of talent, including Williams' Light Initiative.
"The PZ Sphere is a scaled-down version, retaining HOLOSPHERE's precision-engineered structure, robustness and creative video-mapping potential," said Stevens. "But where HOLOSPHERE had been a semi-transparent, low-resolution LED construction designed as part of a stage set to be viewed by a large festival audience, the PZ Sphere is designed as a smaller sphere with a high-resolution LED video screen, designed for close-up engagement and even interaction."
The initial PZ Sphere product has already proved its capabilities in a high-end corporate event environment. In early 2020, VISA commissioned SphereLabs to provide a PZ Sphere for its investor day event in San Francisco, to form an attention-grabbing centrepiece for the VIP event.
With this, SphereLabs has demonstrated its ability to build and deliver purpose-built LED spheres of virtually any specification, for a broad range of applications. And thanks to some nifty design engineering, the PZ Sphere can also be mass-produced. "Since the event in California, we've had interest from Dubai, a number of enquiries in LA and the UK, across television, music, corporate, and live events," said Jones. "We're starting to work on some really exciting projects."
Stevens concluded: "We're incredibly excited about the possibilities. The PZ Sphere is ripe for use on everything from cruise ships to theme parks, hotels to casinos, music tours to TV news. We can't wait to unleash it to the world and, well, get the sphere rolling."