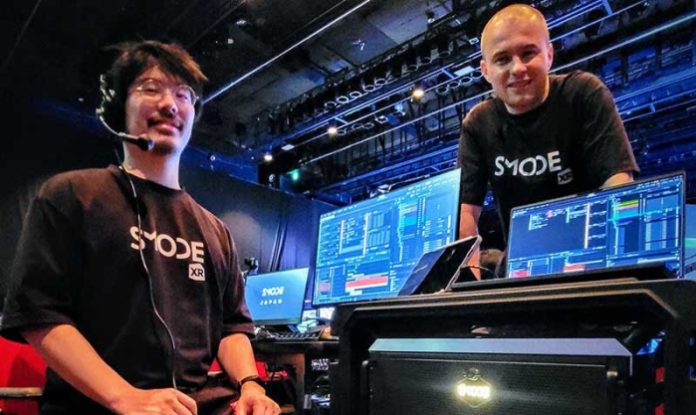 Newly established subsidiary Smode Japan aims to build on growing local interest in real-time compositing tool SMODE, which is already being used in a number of Japanese broadcast and xR studios.
Smode Tech, the company behind the powerful real-time compositing and media server platform SMODE, has solidified its recent growth in the Asian market by opening an office in Japan.
Through the new company Smode Japan, led by Jamie Goodenough, SmodeTech plans to capitalise on increased interest among Japanese media, events and virtual production companies in SMODE, an all-in-one solution making real-time compositing available at a competitive price point.
Since launching earlier this year, Smode Japan has helped its clients open two new green-screen studios, as well as one large-scale xR studio. In addition, the company also recently helped ecommerce giant Rakuten successfully organise a live-streaming AR content project. SMODE, in combination with a green screen, is also being used on a bi-monthly TV broadcast for the upcoming football World Cup.
Looking beyond Japan, SmodeTech is supporting Japanese companies to expand their business to other countries in Asia. The company is also working with a new partner in Korea, DIGITALHURB, to grow the xR (extended reality) market, allowing clients to blend together virtual and physical worlds in live production environments.
"Having been active in Japan for a number of years through Jamie's independent representation, and we are thrilled to officially launch the dedicated Smode Japan office" commented Francis Maes, CEO of SmodeTech. "Japan has always been at the forefront of the adoption of immersive and creative technologies, so it is a perfect fit for our real-time compositing platform which is pushing the boundaries of what is possible in an AV or broadcast environment. We can't wait to work with the talented visual arts community in Japan to help bring their grand designs to life."
Joining Jamie – whose company Headfull has been a SMODE partner since 2019 – at Smode Japan is Nagano-based Yasu Tsukihara, who has been appointed head of training and support. Initially, Smode Japan will focus on targeted key customers and work closely with them to develop more use cases, which will encourage further adoption of the SMODE workflow in the Japanese market.
"Japan's pro-AV community is naturally drawn to more established and trusted methods and workflows," he explained. "We are conscious that SMODE can be perceived as a disruptive technology, as it offers new creative ways of working, blending the traditionally separate disciplines of creation and operation. Our goal is to build a high level of trust by educating this market methodically, and through successful real-world use cases. This will set the foundations of our reputation in Japan, and will help us to grow and expand faster."
In support of this aim, Smode Japan will partner with its clients to demo SMODE at upcoming trade shows, including Inter BEE in Tokyo (16 to 18 November 2022). To book a meeting at Inter BEE, or for more information about Smode Japan, email japan@smode.io.