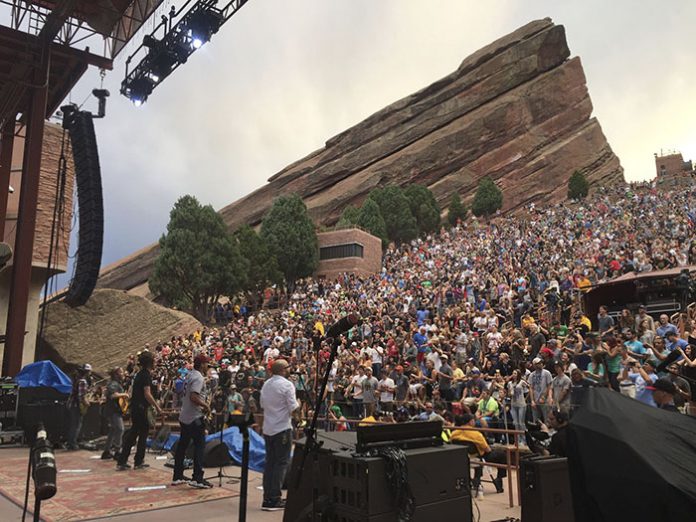 Slightly Stoopid's Return of the Red Eye tour was carrying a full L-Acoustics K2 system supplied by Miami-based Beach Sound.
"The K2 rig was somewhat new to me, but it far surpassed my expectations," noted FOH Engineer James Wisner. "For example, at Red Rocks, where you're basically shooting a rig up a mountain, I have always experienced high frequency loss at the top. This year, K2 not only made it up the mountain but evenly spread the mix everywhere."
Beach Sound Systems Tech Bill Blackstone agreed: "One thing we immediately noticed was the clarity of the K2 system; the PA was extremely detailed giving the mixes a depth we hadn't had on previous tours. And the frequency response of the PA was very even from front to back at every venue."
The loudspeaker complement was typically comprised of 12 L-Acoustics K2 enclosures flown per side, with 16 SB28 subs ground-stacked in various cardioid arrays below. Four ARCS Focus cabinets spread out across the face of the stage delivered front-fill, and all systems were driven by six LA-RAKs, each containing three LA8 amplified controllers. At larger amphitheatre venues, Beach Sound augmented the rig with eight additional K2, eight K1-SB subs and eight more SB28, while Red Rocks boasted a total of 18 K2 per side with 24 SB28 below.
On deck, each side of the stage featured three L-Acoustics ARCS II enclosures, slightly tilted back and positioned in front of two K1-SB subs as a robust sidefill system. Two SB18 subs, providing backfill, and six X15 HiQ monitor wedges rounded out the onstage systems, which were collectively powered and processed by three LA8 (side-fills) and three LA4X (wedges).
According to Blackstone, the crew appreciated the level of versatility that the L-Acoustics system brought each tour stop – the requirements of which often differed significantly from the night before. "The adjustable fins gave us a lot of flexibility with the 70, 90 and 110° options, and being able to reverse the K2 bumper bar allowed us to fly the enclosures on towers in venues where we previously had to ground-stack them.
"Although this is the first year we've carried K2, Slightly Stoopid has used L-Acoustics monitors for the past three years, and they're very particular about the low end on stage. But having both the FOH and monitor systems so sonically similar this year really brought significant improvements not only in the house but on stage as well because the systems were so well matched. Night after night, everyone absolutely loved the sound."