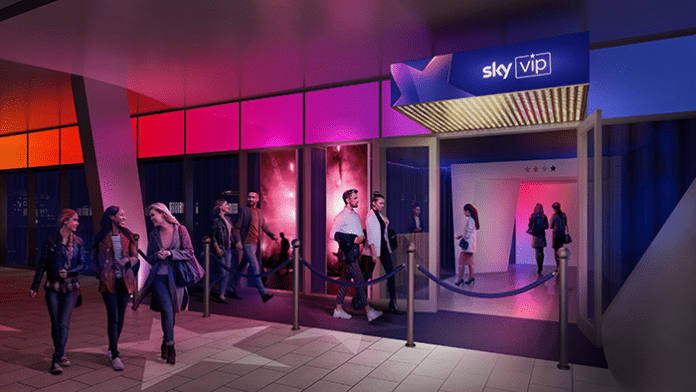 The first of the brand-new Sky VIP lounges launches at ASM Global's first direct arena Leeds on 28 April ahead of Olly Murs' Marry Me tour.
ASM Global and Sky have announced a new partnership as Sky rolls out its new VIP lounge experience. The Sky VIP lounges will be opening across the country, giving more Sky customers VIP access and star treatment closer to home. The exclusive lounges will open in ASM Global operated venues, first direct arena in Leeds, followed by OVO Arena Wembley.
Sky VIP finds new ways to reward customers, with exclusive gifts, rewards, and experiences to choose from, all ready and waiting on the MySky app as a way of thanking their loyal customers. All Sky customers can easily sign up to visit the brand-new Sky VIP lounges on the app on a first-come basis. The exclusive lounges boast a number of benefits, including dedicated entrances and customer check-in, plus a private area to relax and dine in, as well as a VIP Star Bar. Customers can get everything they need before enjoying a show – including merchandise from their favourite acts.
As one of the most prestigious spaces in the arenas, Sky VIP lounges will make guests feel extra-special thanks to immersive installations, themed treats, glitter artists and even a mini stage that can host live entertainment to get customers party ready, making it a truly unforgettable experience, before the arena shows even get started.
The first of the new Sky VIP lounges is opening with an exclusive customer event at first direct arena, Leeds, ahead of Olly Murs' Marry Me tour on 28 April 2023.
As the Sky VIP lounges open over the coming months, Sky customers with tickets to the arena shows can apply for lounge passess, starting with Leeds on 27 March, simply head to the Sky VIP section in the My Sky app. Customers can expect more surprise and delight moments as the rollout continues.
Lauren Tones, UK Partnerships Director at ASM Global, said: "We're delighted to be partnering with Sky as we bring two brand new VIP lounges to two of our UK arenas. first direct Arena in Leeds and OVO Arena Wembley will be home to these stunning new premium spaces for Sky customers. At ASM Global, we're proud to offer best-in-class live entertainment for all of our guests, and this partnership with Sky is a very exciting next step as we continue to expand and elevate the fan experience across our venues."
Joel Keoghan, Head of Brand Partnerships & Activations at Sky, commented: "We're thrilled to roll out Sky VIP lounges, at some of the biggest and best live entertainment venues across the UK, so we can reward even more customers closer to where they live and make them feel special with an A-list experience."
All lounges have been designed with star treatment in mind, as a place to see and be seen. Carefully crafted to help members get in the mood; the lounges all create a striking backdrop for that perfect selfie moment ahead of the show. The deal was brokered by AEG Global Partnerships.