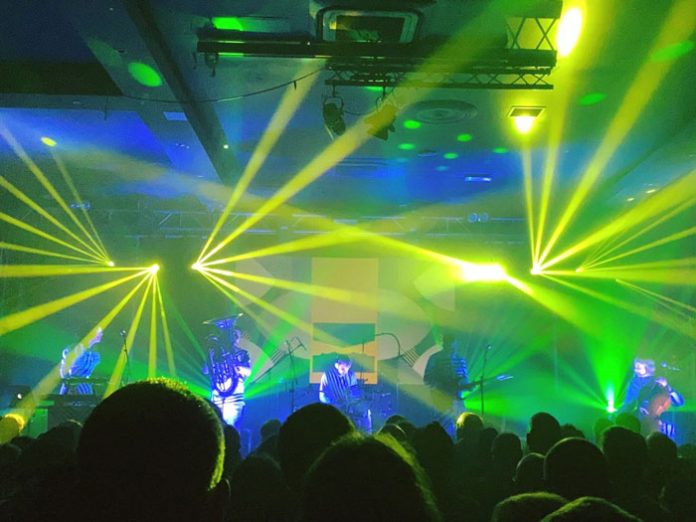 Reflecting the raw, unsettling power and complexity of Anna Meredith's music in light is no easy undertaking, especially when one must contend with limited time, space and budget. But that's precisely what Simon Horn did, when Meredith appeared at London's progressive EartH, with help from a collection of CHAUVET DJ fixtures.
"For a one-off show with minimal space, power draw, and load-in time, I need something that could be set up quickly and easily, yet still allow me to create the kind of immersive looks that would support this artist's exciting music,' said Horn, of Purple Lighting. "I also knew that uplighting the area around the stage and backlighting the band itself would be critical to creating the kind of mood I was after."
Horn found what he was looking for in the CHAUVET DJ Freedom Flex H4 IP. Positioning 12 of the battery powered, wireless fixtures at the edges of the stage for uplighting, and a further 12 behind the band for backlighting and curtain silhouetting, he created a dreamy, other-worldly aura around the stage that reinforced the beckoning transcendental quality of Meredith's music.
The adjustable kickstand on the Freedom Flex H4 IP allowed Horn to achieve the light angles he wanted despite the relatively cramped quarters on the venue's stage. "Given the spatial limitations we faced, it would not have been possible to get the desired angle with a traditional up light type of fixture," he said. "The tilt option along with the wireless operation made these lights ideal for this particular application."
Drawing on the exhaustive colour rendering capabilities of the Flex H4 IP's hex-colour (RGBAW + UV) LED technology, Horn subtly changed the mood of the room by gradually shifting palettes. Matching the colour from the lights with the video images on the wall behind the stage, he immersed the entire room in a visual representation of the music.
"My trusty ChamSys MagicQ MQ500 Stadium was at the helm here and was essential to the success of this show," said Horn. "Given that we were pressed for time, I relied on my MQ500 to set up cues quickly. Also, I had the Magic HD driving media content, which consisted of original pictures and video. This really set the visual tone for the evening."
Adding to the impact of Horn's design were the four CHAUVET DJ Intimidator 140SR Hybrid fixtures that he positioned on upstage road cases. Taking advantage of their colour rendering capabilities and output, he relied on these fixtures to send patterns of beams shooting into the air.
"I loved the wide broken exciting beam effects that could be achieved by combining both prisms at once," said Horn of the Intimidator fixture, noting that it created looks that were "surprising, original and defiant of expectations." In other words, a lot like the music he lit on this February evening.