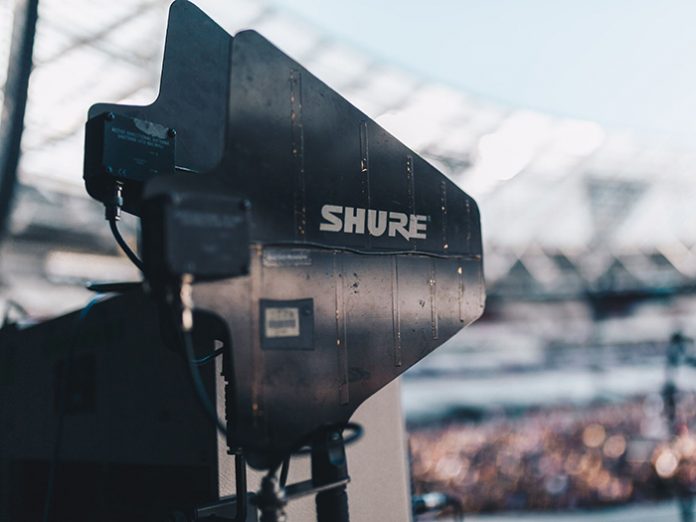 Shure has supported Frank Carter, a long-term Shure user, over this summer's festival season with Axient Digital Wireless Systems.
As a Shure user for over ten years, Frank Carter has a whole collection of Shure microphones on all aspects of the setup, ranging from the classic Beta91a & Beta52 combo on the kick drum to a SM57 on guitars. Most noticeable is Frank's vocal microphone, the tried and tested SM58! Frank Carter is such a fan of the SM58 that he actually has one tattooed on his leg! Frank Carter said: "The thing about the SM58 is, it's not just a microphone to me. When I'm in the crowd, sometimes it's literally my only way back."
The move to Axient Digital was a natural progression for the band, having known about Axient Digital for a while, Mike had never worked with an artist that needed an upgraded wireless system. However, after seeing how lively Frank Carter are on stage, switching them to Axient Digital meant the band could perform with such high-energy and not worry about any potential dropouts or loss of sound quality.
Mike Woodhouse explained: "Nearly two years ago we switched both guitars and bass to Shure GLX-D wireless units, allowing Dean, the bands guitarist, and Tank (the bands bassist), to have maximum movement on stage at all times. These units proved perfect for the band's needs, however the band's fanbase is growing quickly, and so have the stages. To ensure we didn't lose any form of signal quality on the larger festival and high-profile support slots, the new Axient digital units became very appealing to us and in turn we had to try them out over this summer's festival season."
Frank Carter and his band are known for getting up close and personal with their fans and joining them in the crowds. Mike needed a system which was reliable and gave the entire crew more faith in the signal chain. They cannot risk signal degradation when the band decide to jump in to the crowd.
Woodhouse continued: "The crowd has always actually been the biggest hurdle with our wireless systems but the range on the Axient system is flawless. We've had the guitar over 200 meters away from the stage in the London Stadium, without losing connection. That blew me away, I'd never seen anything like that before. The sound quality is like what you'd expect from a cable connection. Full of depth and clear as day from the PA. I'd actually challenge anyone to try and tell the difference between the Axient vs. a cable signal."
Dean Richardson added: "I've played guitar standing on top of thousands of people, upside down and buried when they drop me and from the back of stadiums – and this wireless system has never lost my signal. Trust me when I say it's the best wireless system available."
Woodhouse mused: "This is the first time I have used Axient Digital and there have been zero challenges, it just works! For our IEM units (PSM-1000) we use it in conjunction with Workbench 6 when we get to each venue, so we can usually see the problem frequencies in each venue and problem solve to ensure minimal signal disruption. However, even doing that with some wireless units you still get interference from time-to-time. With Axient Digital that's not been the case once, the system is simple and easy to use, it's seamless. I've been so impressed that I'm now recommending this technology to every band I work with. The quality is just better than anything I've used in the past."
Shure work hard to ensure that their customer care is second-to-none. Woodhouse said: "Tuomo George-Tolonen, (Sr. Director, Pro Audio) is the most hardworking man in the business, he is a lovely guy and always on the other end of the phone, if needed. He certainly has an influence on me favouring certain microphones, just because of the outstanding service. Setup was one phone call to Tuomo. He went through exactly what we needed and how to set it up. Once in front of it, it makes sense. Any musician or engineer could set it up."
Tuomo added: "I've known Mike for some years now from his work with other UK bands and when he asked me about wireless for larger stages I knew Axient Digital was perfect for them. Big stages, harsh RF environments, band members jumping into the crowd, that's what Axient Digital was designed for. It needs to sound good, RF be super reliable, and the product has to be robust. I like punk rock myself so it's been a personal and professional pleasure to see Axient Digital work so well for Frank Carter and The Rattlesnakes."