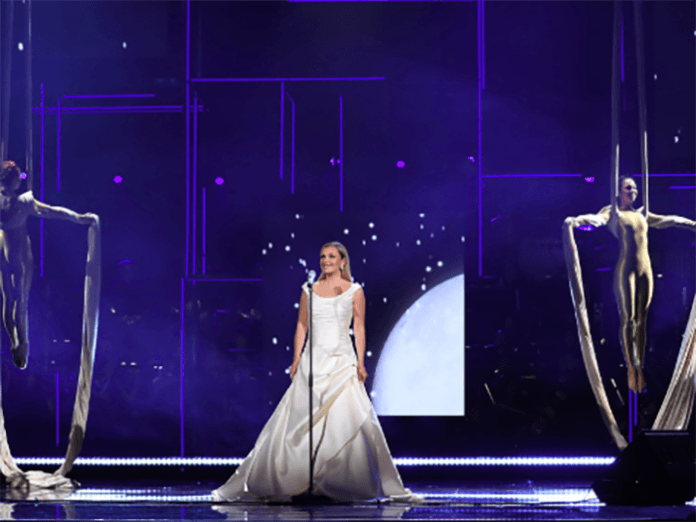 Shure, manufacturer of innovative wireless audio technologies supports multi-million selling, Classic Brit award-winning artist, Katherine Jenkins OBE as she returns to the stage at the Royal Albert Hall for the Classical Brit awards.
Mezzo-soprano Katherine Jenkins OBE performed a song from the Greatest showman at 2018's Classical Brit awards, a ceremony that has always been a special and memorable event for the classical crossover singer.
In May 2018, Phil Wright Sound turned to Axient Digital for Katherine Jenkins, they needed a system which would be future proof and could cope with the range of a professional classical crossover singer without companding or distortion. Axient Digital was their answer.
As an artist who performs at lots of festivals and multi-artist situations where RF is very congested, such as the Classical Brit Awards, they needed a system that delivers a no-compromise solution.
Phil Wright commented: "I simply wanted the very best available system for Katherine Jenkins and recommended Axient Digital on that basis and that basis alone. It is night and day in comparison to the system that it has replaced".
"I first heard the system at a pre-launch event for engineers in Europe. With the approaching loss of 700MHz and the aging of our existing systems, it was a very good time to hear such a ground-breaking piece of technology. I have been using the KSM8 for some time and I have fallen in love with the capsule. The KSM8 and Axient Digital combination is amazing. It is like listening to a wired microphone, I simply cannot make it fall over".
"With it being my first time out with Axient Digital, it has made a huge difference in terms of RF stability. The lack of harmonics means I can set up and worry less about RF and more about making Katherine sound great both on stage and at front-of-house. The sound is so clean and responds so well to Katherine's dynamics, it makes the show a real joy to mix".
Wright explained: "Axient Digital & KSM8 makes monitors much easier. It's such a flat setup with no companding and it's easy to get a great sounding mix on stage that's safe from feedback, even in the most demanding outdoor situations. Having one system that is wideband and covers 470-636Mhz is incredibly flexible, especially when we're in Europe or the US. The old system was much more band limited".
"Katherine Jenkins is a musician first and does not like to be constrained by technology. With Axient Digital I have the confidence that she can leave the stage and interact with her audience without getting any nasty surprises".
Pleased with the level of service and support Wright explained: "Shure have always impressed me that as a large company who are dealing with the world's most elite artists, they always have time for someone like me who maybe only wants a couple of channels of kit, alongside big rental companies and tours who might be buying hundreds of channels".
"The purchase and supply of the product was smooth from start to finish, including the interaction with Crystal Rocked for customisation. Tuomo has been really great in terms of support".
Adding to this, Tuomo Tolonen, Director Pro Audio Group at Shure UK commented: "I love seeing the variety of amazing people we have the luxury of working with. With an artist like Katherine, the focus is solely on her performance and it needs to sound authentic and deliver flawless RF performance wherever the show might be. It's a pleasure to work with talented engineers such as Phil and hearing how pleased they have been with the product."