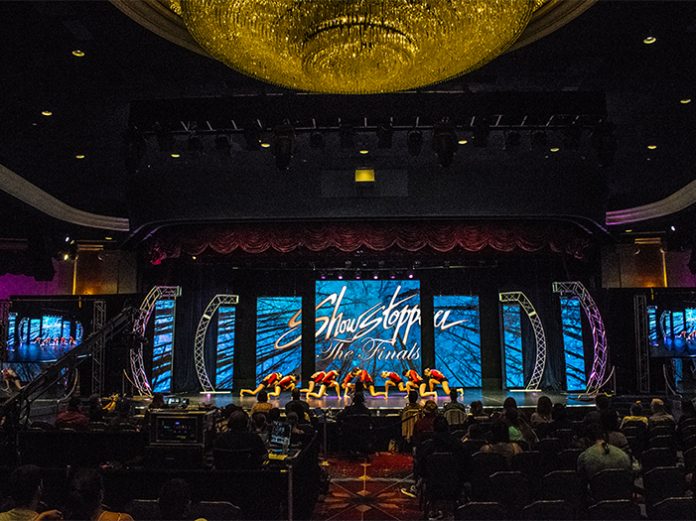 Celebrating its 40th anniversary in 2018, Showstopper is America's largest and longest-running dance competition, it provides dancers of all ages the opportunity to experience big stage competition with full-on professional production. For the event's anniversary year, this production has been taken to another level thanks to an investment in 136 ADJ AV6X LED video panels that made their debut at the recent series of national finals.
Showstopper was founded in 1978 by Debbie and Dave Roberts as a response to the lack of competitive opportunities for their dancer daughter. Throughout the year over 100,000 dancers compete in front of professional judges at 45 regionals – taking place across the country from February thru May – which leads to 6 national finals in June and July. It was at one of the biggest of these finals, which took place at the Disneyland Hotel in Anaheim, CA that ADJ met up with Showstopper's Technical Director Andrew Harris to find out about the company's large investment in AV6X panels.
Starting out as a Lighting Operator, Harris has worked his way up within the company to become the Technical Director with overall responsibility for all of the lighting, video and audio production across the Showstopper organization. He also serves as the Production Manager for many of the regional and all of the final competitions, overseeing a team of up to 20 technicians for the larger events.
As the company organizes so many events each year, it runs all of its AV production in-house from a 25,000 sq. ft. warehouse in Myrtle Beach, SC. Having previously used Elation Professional video panels to provide a backdrop for stage sets, when it became time to upgrade their LED video system Andrew and his team selected ADJ's AV6X product. The panels were supplied to Showstopper by Barbizon Lighting in Charlotte, NC and were deployed for the first time at the recent 2018 finals, as part of a new stage set that will be rolled out for all of the 2019 regional events.
"I'd like to thank Esther at Barbizon in Charlotte as well as Chris Healy and Rob Drachler from the Healy Group (the manufacturer's representative firm that represents ADJ in the region) and also ADJ's Regional Sales Manager, Edgar Bernal, and Video Panel Support Technician, Corey Chavira, for all their help with our order," commented Harris. "They really did provide stellar support getting everything to us ready for our final events and providing useful technical assistance when we needed it."
The ADJ AV6X is a high-quality modular LED video panel that offers a 6mm pixel pitch and a brightness of 1200NITS. It boasts a convenient modular design with 4 mini modular panels within the master panel that can be easily removed for simple serviceability. The unit also offers a built-in Navistar receiving card as well as convenient powerCON and etherCON input and output connections.
For the 2018 Showstopper, West Coast final at the Disneyland Hotel, Harris and his team deployed 106 AV6X panels to create the stage set backdrop, arranged across seven separate sections. In addition, a further 30 panels were used to create 2 5 by 3 IMAG screens positioned at either side of the stage to show live video footage of the performances. These replaced what have historically always been projection screens to provide increased brightness and clarity.
"We chose the ADJ panels because of their rigid frame and modular structure," explained Harris. "As we're in an out of venues very fast – we only usually get around eight hours of setup time – we don't have time for on-the-road repairs. But with the AV panels, we know that if anything goes wrong we can easily swap out a module and send it back to ADJ for repair. Affordability was also a key factor that we took into account.
"The price point of the AV6X panels allows us to write the investment over fewer years, which means we'll have the option to upgrade more quickly – or to invest in another aspect of the show. The panels are also very easy to rig, in fact, I'd say our setup and teardown time has been cut in half! Of course, they also look great, with a wide viewing angle, which is also important. The image quality is fantastic, it has opened up a ton of new possibilities and it has also made the high-resolution content that we'd been using before look fresh again. Overall, it's a great product!"
Video backdrops have been a part of the Showstopper events for around 6 years now, and during that time Andrew has sourced a wide variety of animated loops and other background content. These are stored on a media server and selected at the beginning of each performance using the Media Picker feature of the Highend Systems Road Hog lighting console.
Harris concluded: "Each event includes lots of performances, with no time for rehearsals, so we have to design the show on the fly. What we try to do is choose the 'look' for each performance based on the costumes that the dancers are wearing and the name of their song. So if it's 'Jet Set', we'll throw up a cloud loop and that will work pretty well. A lot of teams also bring along props, so we'll use those to inspire the visuals. For example, if it's a jail cell routine, we'll put up jail cell bars behind them.
"But sometimes the song names can be very ambiguous, which means that when there are no props we'll just have to go off the colour of the costumes. But we've got our Media Picker banked by colour, so it's easy to scroll through and grab a blue clip or a purple clip. All of that pre-programming is done during our off-season – from August to December – which is when we spend the time getting everything prepped to make life as easy as possible for when we're out on the road."
In addition to the LED backdrop, the rig also included 6 Elation Professional Rayzor Q7 moving headlights to provide colour on the stage as well as midair eye-candy effects.