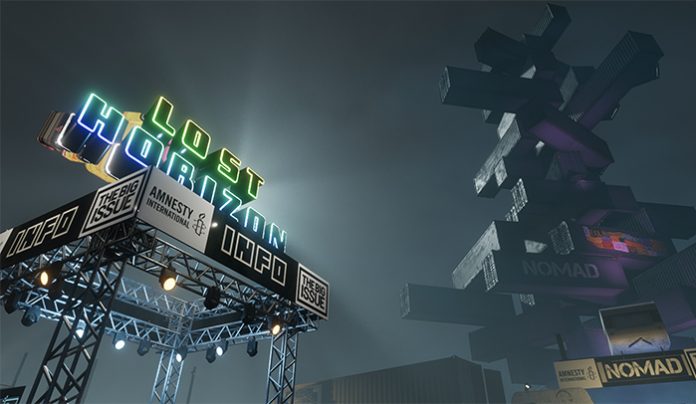 Lost Horizon, which premiered with a four stage festival to 4.36 million people across the world this July, has revealed its first season of virtual events will take place throughout December 2020 in the immersive world of Sansar.
The season will culminate with 'Chasing Midnight', a colossal 24-hour global celebration on New Year's Eve, chasing midnight around the planet as we countdown to 2021, taking in 12 time zones and 12 countdowns, with a line up of some of the world's best DJs.
Lost Horizon will produce a game changing season of events in December, in virtual reality on the global leading VR event platform Sansar, once more delivering an interstellar line up of superstar DJs, underground acts and visual artists.
Lost Horizon, created by the team behind Glastonbury's legendary Shangri-La, continues its mission to make music accessible to all, curating its own spectacular line up of free shows, complemented by a series of paid events, offering a much needed commercial platform for artists unable to perform live during the pandemic.
Programming for the season is underway, with many high profile shows signed up, but organisers are still open to enquiries from promoters and brands regarding partnerships and activations. Interested parties should contact Lost Horizon Commercial Director, Robin Collings on robin@losthorizonlive.com.
Lost Horizon set the bar high with July's premiere festival in Sansar, which featured a showstopping line-up of global acts that included Peggy Gou, Carl Cox, Jamie Jones, Fatboy Slim, Seth Troxler, Sasha, John Digweed, Pete Tong, Frank Turner, Noisia, A.Skillz and Krafty Kuts, plus takeovers from labels including Hospitality and 24hr Garage Girls, many of which will be returning.
The interactive virtual venue, built within virtual reality platform Sansar, so far has six distinct but customisable areas, including festival stage Freedom, 360 degree digital arena the Gas Tower, media centre SHITV, underground club Nomad, plus a virtual open air art gallery and the interactive Landing Zone, which features merch stalls, art, seating and info points completing the full festival and event experience.
The fully interactive and multi-stage venue can be explored within Sansar via PC and VR, plus streamed via a multi-camera system on any web browser or a dedicated mobile app (iOS and Android). It will also, once again, be streamed live and direct to wherever you are on the planet.
Mobile users are able to toggle between different vantage points within the virtual world, whereas virtual reality and PC users will be able to move around inside the space, interacting and using their computer's mic to speak with other festival goers, just as if they were at a real life festival.
Lost Horizon Co-Director Robin Collings commented: "We are incredibly excited to launch the second phase of Lost Horizon with a raft of exciting shows in December, plus we have some huge plans for 2021 and beyond. In these troubled times, our mission is to bring some joy and real culture into people's lives."
"Lost Horizon's virtual platform offers so much more than other VR events, allowing people to connect with their friends and meet people from around the globe, you can literally chat, live using your computer's mic and speakers, to other people in the virtual world, while watching some amazing DJs and live music! Real events in a virtual world".
Lost Horizon comes from the team behind Glastonbury's Shangri-La. With its roots deep in contemporary music, art and activism, Shangri-La has established itself as a legendary field in UK festival culture, engaging a truly dynamic community of artists, builders, and revolutionary creators and known for showcasing the latest "off mainstage" acts, Shangri-La has served as a launchpad for some of music's biggest names, with artists such as Lady Gaga, Rudimental, Disclosure and Pendulum gracing its stages early in their careers. This makes Lost Horizon the perfect place to launch the next era of live music.
Lost Horizon was created by the team behind Shangri-La, in partnership with VR JAM and Sansar and launched in July 2020 in response to the global pandemic.