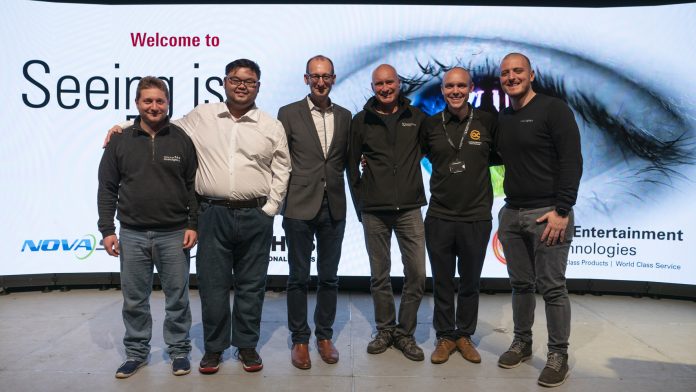 A.C. Entertainment Technologies Ltd. (AC-ET) hosted the first UK Seeing is Believing event featuring leading video brands NovaStar, PROLIGHTS and Green Hippo, with nearly 80 delegates attending the training & demonstration day on 6th March.
Held at leading Live Events community, Production Park in Wakefield, the day provided specialist training for professional video users on NovaStar's award-winning LED display processing solutions, to get the optimum picture results out of video screens.
The products were demonstrated using PROLIGHTS flagship OmegaPIX LED displays, which feature NovaStar's A8s card to deliver stunning image quality. The content was fed from a Green Hippo Hippotizer V4+ Boreal media server.
The event was geared for all levels of video user, from novices through to highly experienced professionals, and attended by rental companies, designers and AV installers from a wide range of sectors.
John Harrison, Entertainment Manager for Brittany Ferries commented: "I was interested to attend as a video is an increasingly important creative element of our ships' entertainment production. It was very well organised, and easy to understand as a video novice."
James Voakes, Senior AV Technician at Paragon Creative commented: "The event made excellent practical use of the products to aid the training, and I was impressed by the flexibility of the NovaStar and PROLIGHTS system."
Stuart Burdett, Video Sales Manager for A.C. Entertainment Technologies said: "We are delighted with attendees feedback. Those new to NovaStars products, as well as experienced users, found the training to be beneficial and got a lot out of the day. It was also great to learn what some of the industry's leading video professionals thought of NovaStar's high-quality display processing solutions, and the stunning image results achieved using them with PROLIGHTS; OmegaPIX LED screen technology. We are definitely considering repeating this training in the future."
Miles Marsden, Industry Partnerships Director at Production Park, commented: "It has been fantastic to collaborate with our industry technology partner, A.C. Entertainment Technologies to share with attendees the knowledge to achieve the highest standards of video display setup and performance for live events and installations. I hope that together we can build on this experience by hosting many more of these great events at Production Park."