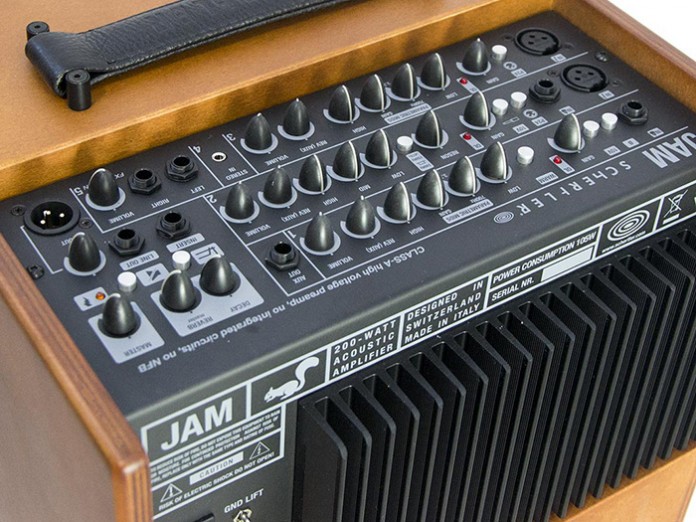 More inputs, more features and more flexibility as Swiss manufacturer Schertler releases latest compact acoustic amplification system.
Swiss manufacturer Schertler announced the release of JAM, the third member of its 'next generation' acoustic amplifier series. Representing an evolution of the company's best-selling JAM 150 amplifier, their latest five-channel 'all-rounder' offers greater flexibility in both live performance and studio situations. The amp combines a comprehensive feature set with the updated technology and enhanced 'look' that is characteristic of all the models in this series.
Equipped with a one-inch dome tweeter and eight-inch woofer, and featuring an optimised two-way bass reflex construction, JAM offers 200W (150W + 50W) of bi-amplified power. The amplifier includes a balanced microphone (XLR) input, an unbalanced mic/instrument input and an input offering both balanced microphone and unbalanced mic/instrument options.
Both instrument inputs feature a Bootstrap technology that enables the input to automatically adapt to any impedance. A separate stereo input channel will additionally accommodate devices such as a computers, MP3 or CD/DVD players. A fifth FX Return channel can also be used for inputting line level devices.
The three main microphone/instrument input channels include a gain control for input sensitivity regulation and 3-band EQ, with parametric mids on input channels 1 and 3 and a switchable resonance (notch) filter (240Hz/150Hz) on channel 2. Phantom power is supplied for condenser and electrostatic microphones. Each of these channels also features an overload LED. Channel 1 is additionally equipped with a phase reverse switch to prevent feedback, or unwanted effects between the various channels.
JAM's Master Section controls include a new adjustable DI Out, a new Mute button, a Line Out enabling the connection of external systems, a digital reverb and an Insert for connecting an external dynamics processor. An Aux Out offers additional connectivity to other systems. A Low Cut filter (cutting frequencies below 180Hz) can be used with instruments that generate aggressive low frequencies. This also enables a separate subwoofer to be connected without causing any damage to the amplifier. JAM is additionally equipped with a high voltage CLASS-A preamp that has no integrated circuits and No Negative Feedback (NFB).
A choice of wood or anthracite grey finishes are available. Models with the wood finish have a textile front speaker cover. This makes them well suited to normal domestic/home/club use, where they can integrate with a range of interiors or design stages in live music clubs. Models with the anthracite grey finish are equipped with a metal front grille. These have been designed for more robust stage and road use, where there is greater exposure to daily wear and tear or to potential damage during transportation.
JAM can be purchased from the Schertler online store (Europe, the US and Canada only), or from Schertler showrooms and distributors worldwide. Other currently available models in this new amplifier series include GIULIA Y and DAVID.