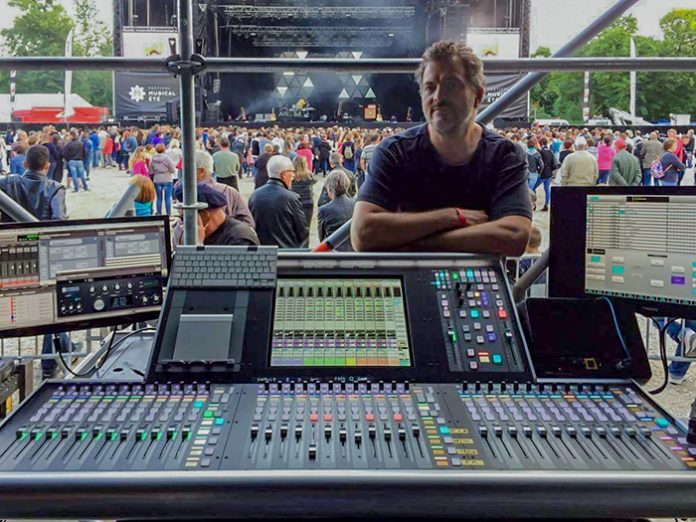 S Group has expanded its SSL stock with the purchase of two Live L200 consoles – the new mid-scale digital live mixer that combines the outstanding sonic performance, accelerated workflow, and advanced feature set of SSL Live into a cost effective package that makes it accessible to a much wider audience.
S Group, based in Alès, South of France was founded by CEO Leon Van Empel in 2001 and has since gone from strength to strength, building up an impressive portfolio of tours and festivals, and supplying everything from core sound and light systems to screens, rigging, and staging systems and support.
The company took the audio lead back in 2013 when it invested in two SSL Live L500 consoles, initially for front of house and monitors duties on French R&B artist Amel Bent's tour. Since then, the L500s have been popular choices, being used on prestigious events such as the Les Prodiges and Musiques en Fête.
Most recently, it has taken the lead again by adding a pair of L200s to its inventory, with the first outing going to Ivan Herceg, Front of House Engineer for the French-Israeli singer and songwriter, Amir.
"It became obvious that just having the two L500 consoles was too limiting," said Van Empel. "We wanted to keep that high-end solution for our most demanding customers, but were also under constant budget pressure from many others. When SSL came to me with the L200 concept I was instantly convinced this was the perfect solution: An SSL console, with the reliability, the pedigree, and the sonic signature we already trust, fully compatible with the others in the range, with Dante integration, and at a price that makes it much more affordable for the many mid-range tours that were already asking for SSL.
"We quickly made the decision to order two L200s, and Ivan Herceg was immediately very enthusiastic about using an L200 at FOH for Amir. It's quite a demanding show for sonic performance, and Ivan had previously used an SSL L300 on Lilly Wood and the Prick's tour, so already he knew what might be possible."
Herceg had already taken an L300 on an 18-month tour, so for him the move to the L200 was a natural one. "Having an in-built Dante port, and having 36 faders aligned for FOH is just great," he noted. "Especially when using Super Query to develop sub-mixes or feeds to a mix." SSL Live consoles can now manage the routing across an entire Dante Network.
"The new version 4 software brings many improvements to the whole range," he continued. "For me, particular highlights are the XY routing and the new Submonix plug-in for the internal FX Rack." Submonix generates up to four independently filtered bands, each transposed to one octave below the original signal and mixed back in to underline and enhance elements like kick drum and bass instruments.
"The L200 matches the L300 and L500 for sonic quality," stated Herceg. "There's an amazing depth of definition, and headroom as excellent as any analogue benchmark. The feeling is fantastic, and the FOH mix sounds absolutely great on any system – even small ones."
S Group's new SSL consoles already made their mark for the company. "We were very proud to be the first SSL Live adopters in France in 2013, and once again to be the first adopters for the SSL L200 in 2017." concluded Van Empel.