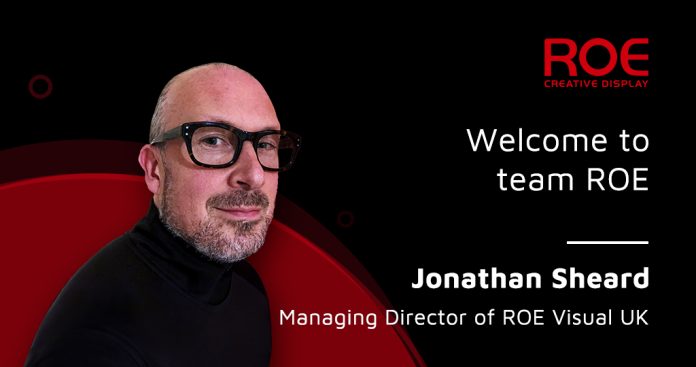 ROE Visual has appointed Jonathan Sheard, a seasoned industry veteran, as Managing Director of its UK team.
Sheard brings a wealth of hands-on experience and a huge amount of in-depth LED knowledge to the team. His three-decade-long journey in the live event business has endowed him with a deep understanding of our industry's cultural, technical, and commercial aspects. His rich background working within the diverse CT group uniquely positions him to comprehend and serve ROE Visual's client base.
With this extensive experience and a knack for nurturing strong business relationships, Sheard is eager to embark on his new role, commenting: "I am thrilled to be joining such a respected and forward-thinking company as ROE Visual. I'm excited to bring my knowledge and experience to the team and work towards delivering exceptional LED-based solutions to our clients."
Grace Guo, Sales Director of ROE Visual, commented on the appointment: "We are incredibly excited to have Jonathan Sheard join our UK team! Our partnership with Jonathan spans over a decade, and his impact on the industry has been nothing short of impressive. His unwavering commitment to delivering exceptional customer experiences aligns perfectly with the vision of ROE Visual. With his outstanding reputation and proven track record of delivering remarkable results, we have complete confidence in Jonathan's leadership and ability to drive our growth and success in the UK market. We warmly welcome Jonathan and are excited to work together to achieve new successes!"
Sheard starts his role at ROE Visual UK in November with an internal introduction and a planned holiday. From January 2024 onwards, he will commence his introductory rounds in the UK market and be part of the ROE stand staff at the ISE exhibition in Barcelona.