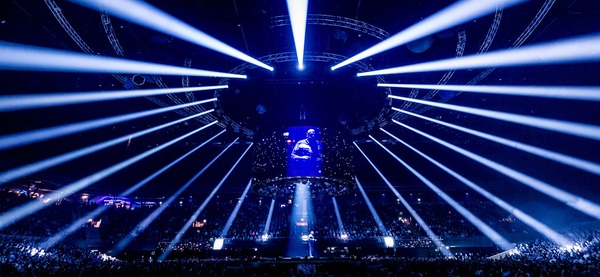 Dutch astronaut André Kuipers presented SpaceXperience Live, an immersive intergalactic show staged in-the-round, professing real-life stories and first-hand experiences working in space on various ESA programmes, supported by out-of-this-world lighting design.
LD Henk-Jan van Beek from Dutch creative visual practice Light-H-Art turned to production company LiveLane. Enrapt audiences were treated to a simulated rocket blast-off in the middle of the venue, a jaw dropping piece of theatre for which Henk-Jan specified 40 Robe BMFL WashBeam moving lights and 16 Robe Cyclones, to assist in creating all the drama and excitement of a real simulated rocket launch and a space voyage.
The Robe BMFL WashBeams were the primary lightsources for the whole presentation, with 8 used as follow spots, while Robe Cyclones were instrumental to recreating an authentic blast off for the rocket. "The lighting was absolutely fundamental to making the concept work and it had to be precise and detailed," explained Henk-Jan. Invented by LD Scott Warner, the Robe Cyclone is a high-powered LED wash light with inbuilt DMX-controlled fan and integrating lighting via a ring of individually controllable 24 RGBW multichip LEDs. Henk-Jan combined these with Cosmopix double-rotating sphere fixtures; 8 Cyclones were embedded in the ring of LED video screens, which dropped down to the stage level as the rocket prepared to launch, and the other 8 were positioned on the stage floor.
The Robe BMFL WashBeams were rigged on a series of half-circle trusses flown above the set and stage, with the most central 16 lighting around the LED screens and helping to form the sides of the 'rocket' (as the screens were flown down to the stage level). A further 16 luminaires were on straight trusses above the first rows of audience, and on the ends of each truss, 2 Robe BMFL WashBeams were utilised in follow spot mode to pick up the singers and dancers when they came onstage. Eight BMFL 'followspots' were operated by 2-crew utilising a remote floor based control system with access to the pan / tilt functionality, while all the other parameters were controlled via Henk-Jan's MA Lighting grandMA2 lighting console.
Henk-Jan worked with Light-H-Art programmer Joost Wijgers on the show, and both really enjoyed delivering the lighting. The show ran 3 times on 1 day, and reached out to over 30,000 enthralled space cadets. Light-H-Art, a prolific creative design and programming company based in Ermelo, the Netherlands, are known for imagination and flair, which was founded by Henk-Jan in 2006. The team now consist of 12 talented individuals working alongside Henk-Jan on a wide variety of shows, events and projects embracing multiple sectors all over the world.