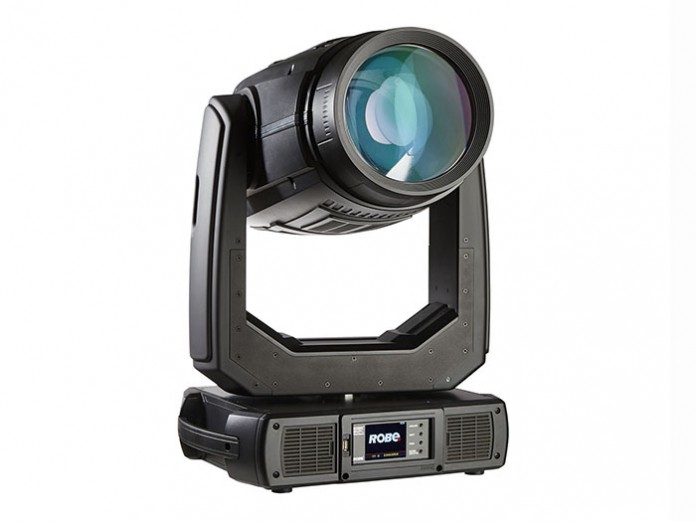 Robe has officially launched its newest and brightest BMFL series luminaire to date – the BMFL WashBeam.
An online launch platform was chosen to reach a global audience of busy industry professionals, empowering them to participate in the experience and excitement via computers and smart-devices wherever they were and whatever they were doing.
Robe's worldwide distribution network can be contacted to arrange full physical demonstrations of the BMFL WashBeam, and the fixture will be showcased at the Prolight+Sound expo in Frankfurt in April and future trade shows and exhibitions.
The BMFL WashBeam joins the BMFL Spot and BMFL Blade and BMFL Wash, ensuring that Robe offers the most comprehensive range of high powered, fully optimised 1700W hybrid moving light fixtures on the market.
It features all the innovation that has made the BMFL a massive success on numerous world-class shows, events and installations
The BMFL WashBeam features a customised super-bright 1700W compact short-arc metal halide lightsource with 6,000K colour temperature, 300,000 Lux at five metres (the brightest BMFL series fixture to date), a high CRI of more than 90, a sumptuous 'fat-beam' emitted via 180 mm front lens, Wash, Spot, Profile and Beam functions, a five to 45° zoom, super-smooth colour mixing and a defined dimming curve.
Other features include two colour wheels, two gobo wheels (rotating & static) with premium quality HD glass gobos, an animation wheel, four fast framing shutters to create individually angled positions within the framing module which rotates 90° (for quick sharp / soft focus, and the creation of complex in-air effects or crisp projected animations), three grades of frost filter for additional smoothing of the beam edge, Electronic Motion Stabiliser (EMS) technology to absorb vibrations from music and audio sources, truss movement, sprung or suspended floors, a light weight of 38kg and compact dimensions.
The brand has enjoyed unprecedented success with its BMFL Spot, Blade and Wash fixtures designed for all types of live applications and installed environments.
The Robe philosophy of producing 'smaller-lighter-brighter' has also been continued with this signature range, and even with the incredible brightness BMFL has been kept compact and streamlined.
BMFL Spots, Blades and Washes have been used worldwide on some amazing shows and events since September 2014, including the Glasgow 2014 Commonwealth Games Opening and Closing Ceremonies, The 2015 SEA Games Opening and Closing Ceremonies in Singapore, NBC's Sunday Night Football Open sequence with Carrie Underwood and leading TV productions across Europe and Asia.
They have also been used at popular festivals such as Tomorrowland in Belgium and Glastonbury in the UK, for lighting numerous internationally acclaimed artists from David Guetta to AC/DC to The Grateful Dead, together with other high profile events like New Zealand Fashion Week and prestigious installations like London's Royal Albert Hall.
All of these and many, many more are enjoying the benefits, brightness and huge flexibility of the BMFL range.
The BMFL WashBeam underlines Robe's commitment to producing the very best of entertainment lighting technology and offering the most creative, reliable and practical tools for lighting, show and visual designers, rental companies, venues and other end-users.
The company's passion and dedication to producing quality and high value products genuinely made in Europe has helped make Robe globally successful and a market leader in key territories like the US, UK, Asia and Europe.