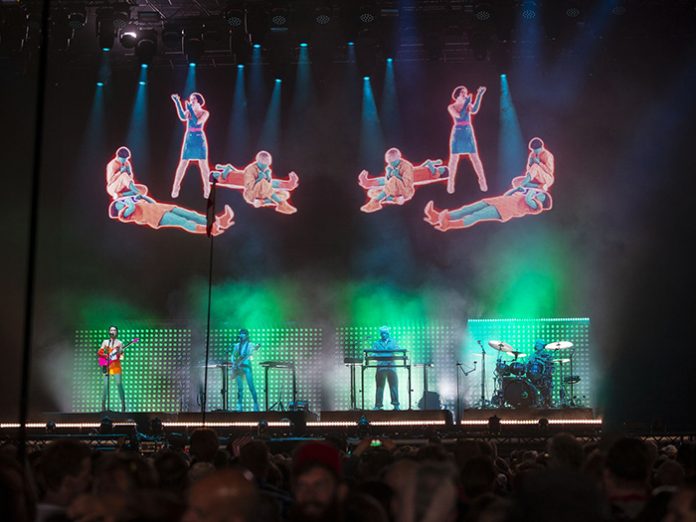 Building on the success of the 2017 move to an all-Robe moving light rig, Sune repeated the move again, utilising 76 Robe Spiiders, 48 Robe BMFL Spots all supplied by Copenhagen based rental company, Comtech.
The objective of Sune Verdier and his team co-ordinating and running lighting at Roskilde Festival 2018 was creating the best guest experience for visiting lighting designers rocking up to the Arena Stage.
Verdier cultivated a vibe that 'FOH at the Arena' should provide a calm, inclusive and well-organised working environment where LD's needs can be fully prioritised, while their onstage options are also equally flexible and dynamic.
The LD designed the production lighting rig for the 17,000 capacity inside the venue – with another 17,000 outside – and liaised with the many visiting LDs to ensure that they received the best show possible. Joining him this year at FOH were Frederik Heitmann and Nicolai 'Gubi' Smith.
Verdier first introduced Robe to the Arena in 2016 with Robe BMFLs. In 2017, Robe Spiiders replaced the previous wash fixtures and everyone was so pleased that it stayed all-Robe for 2018; with the added bonus of 22 Robe Pointes which were added to the audience lighting positions.
Also on Verdier's team was Software Developer Christian Olsson who devised a custom control system for the Arena's environmental and periphery lighting which is on a separate console to mimic the action of the main console. The Apprentice sits on the ArtNet network and follows parameters like colours, iris and shutter chases and movements on the main console, takes the algorithms and feeds these into the house lighting console, so the tones and textures can be mimicked.
For full flexibility, an automated truss system offered eight different truss designs based on 10 individual truss pieces. The truss design is selected in advance by the guest LD and these pre-selected truss designs can also be further tweaked if necessary.
On each of the 10 moving trusses were 4 Robe Spiiders, 3 Robe BMFLs and 2
strobes and there were Robe Spiiders along the front of the stage and upstage at the back in front of the house LED screen (also customisable). A house floor package was available to all artists which this year this was set up on 6 rolling boxes, each containing 1 Robe BMFL and 2 Robe Spiiders, which could be positioned as required by the LD – at no additional cost to the production.
"The colour mixing of the Spiider is great, the range and scope of the effects you can extract from the Pointes and the general usefulness of having BMFLs on a rig makes this a perfect combination of luminaires".
Verdier concluded: "Every year we strive to make improvements. We ask each of the visiting LDs if there was something else we could do or an element we could do better and we take this on board for the next year."