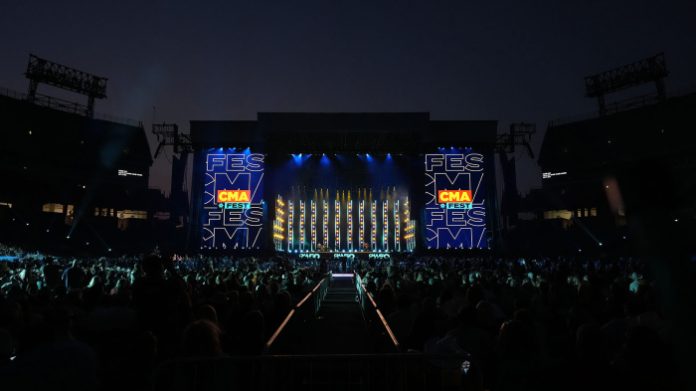 Lighting Designer, Mike Swinford of UpLate Design aligned with Fuse Technical Group to debut Robe FOOTSIE luminaires for CMA Fest 2023. As a televised event, key lighting was critical. The four-day music festival – centred on country music, hosted by the Country Music Association at the Nissan Stadium in Nashville, Tennessee – marked the first time the LED lighting products had been used in the United States.
Thirty FOOTSIE luminaires were positioned in a line along the front of stage. Swinford praised the product's inbuilt diffuser: "They looked beautiful, very smooth, and worked perfectly for eliminating face shadows."
As the FOOTSIE has an integral cable tray, all cabling was concealed resulting in a flat, streamlined look onstage and output which impressed Camera Director, Alan Carter and Stage Manager, Cindy Sinclair, according to the LD. "I had every confidence the fixture was exactly what we needed, and they worked precisely as I envisioned," he remarked.
Swinford's FOOTSIE journey began at the Robe factory in the Czech Republic, when he saw late-stage prototypes, which were subsequently launched at Prolight + Sound in Frankfurt, Germany. FOOTSIE is currently available in two standard lengths, FOOTSIE1 measuring 600mm and FOOTSIE2 which is 1,200mm. The luminaire has a choice of warm or tunable white LEDs or RGBW single chip LEDs. The classic warm white LEDs offers a CRI greater than 90 and tunable white ranges from 2,700K – 6,500K. CMA Fest's FOOTSIE luminaires had their waterproofness tested during the festival. "They took a lot of direct rain, we left them out there and they worked flawlessly," recalled Swinford.
Another huge advance for multi-camera environments is that pedestals in the pit, handhelds and steadicameras onstage can shoot over the low-profile FOOTSIE luminaires, making no impact on sightlines. "It's just a brilliant, inspired and highly practical fixture," enthused Swinford.
The LD also specified 80 Spiider luminaires on the rig which were installed on 18ft by 35ft vertical towers positioned across the back and around the sides of stage and used for stage washes and pixel effects to the benefit of back-of-camera shots. Ten further FORTE luminaires made up with rig, with six running on RoboSpot followspot systems. "Robe is great at listening to what designers are discussing and wanting, and at responding with excellent products," Swinford said.
He worked alongside a FOH team including Lead Programmers, Mark Butts and Andre Petrus, who took care of the key and audience lighting. They collaborated closely with television Lighting Director, Mark Carver; Gaffer, Cole Kiracofe and Fuse Technical Group Account Handler, Scott Bishop. "They did an excellent job," Swinford said, praising the vendor's involvement.
"CMA Fest is an iconic event in the country music and live production industries, and we were thrilled to be a part of it," added Fuse Technical Group's Scott Bishop. "It was a lot of fun to be one of the first production providers to see the FOOTSIE in action. It was robust and made a tremendous impact on the stage design."