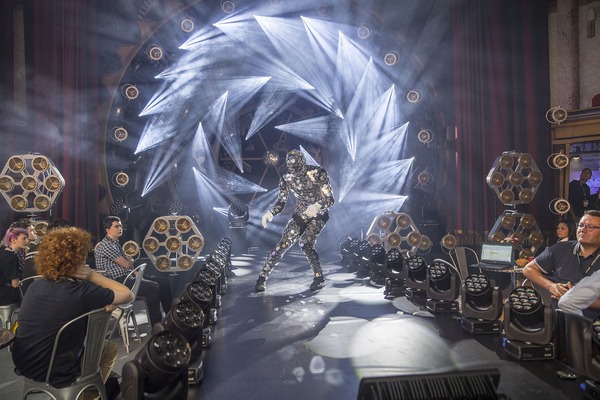 PLASA 2017 proved a lively, energetic and vibey hub for meeting the UK's lighting and visual designer community.
Robe CEO Josef Valchar, said: "We have enjoyed seeing many individuals, companies and organisations from all over the UK as well as several from Europe – the quality of the visitors and the networking opportunities were really excellent this year."
The annual trade show was again staged at the Olympia exhibition centre in west London over 3 days, with Robe's large, high-impact stand right at the heart of the domed ceiling hall, attracting massive attention with a specular dance / light performance live show.
The 2017 product focus was on Robe's new MegaPointe multi-functional moving light. The stand design and the live show's direction and choreography was conceived entirely by Robe's Creative Team led by Nathan Wan and Andy Webb. The show starred Jake Stephens, a freestyle dancer and 42 Robe MegaPointes.
Stephen's 5 minute routine was performed in a custom designed mirror suit sourced in Belarus and chosen to really accentuate the effect of the Robe MegaPointes and the other new fixtures in the show, which included LED Beam 150s, onePATTs, Divine UVs, Spiiders and pixelPATTs.
PLASA 2017 also featured 2 black box demo studios where visitors receive demonstrations and get close to new products, including the RoboSpot / LightMaster remote, operated follow spotting systems, the DL series of premium theatrical luminaires and the VIVA CMY spot moving light.