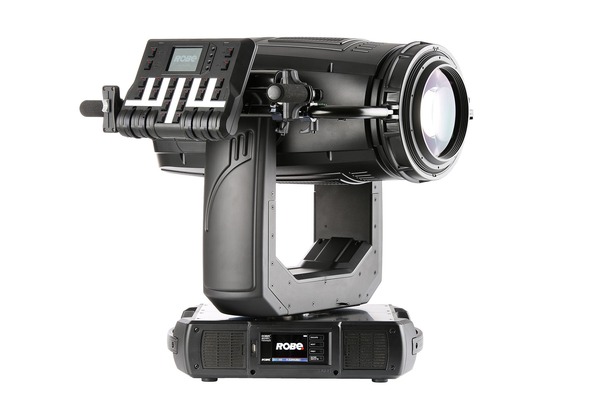 Robe will showcase its dynamic new MegaPointe multi-functional moving light at the Robe City Music Hall which will present the MegaPointe Live show.
Attendees will witness a series of Robe fixtures shown for the first time at a U.S trade show including the BMFL LightMaster and from the PATT range, Pixel PATT, PATT 2017 and onePATT.
The Robe MegaPointe utilises an exclusive 470W short-arc light source, with crafted optics which produce bright parallel beams, gobo projections, together with super-quick movement, smooth CMY colour-mixing and a multitude of effects.
Featuring zoom ranges from 1.8-21° in Beam mode – tight, powerful and punchy. It goes from 3 to 42° in Spot mode with crystal clear high-clarity output through a 150mm diameter front lens, with a stunning total lumen output of 20,375 and an impressive CRI of over 80.
While the Robe LightMaster is available in either sideways or back mounted options.  While being used by the follow spot operator, the remote desk can still take control of all the internal features of the BMFL unit (like dimmer, colours etc.). The BMFL fixture's internal settings allow pan / tilt movement behaviour to be tailored by adjusting tension smoothness and resistance.
Quarter turn locking screws enable quick mounting for the Robe LightMaster in either back or side positions, and the control panel connects to the BMFL via USB. The latest member of Robe's growing PATT family of 'scenic' retro-styled luminaires is a high-powered, multi-colored RGBW multichip LED fixture housed in a slim lightweight brushed metal frame.
Whereas the Robe onePATT can be mapped and used for matrix-style and other geometric as well as single source illumination, extending the original PATT 2013 with an environmentally conscious option driven by 7 30W RGBW LEDs.
The pixelPATT, another new addition to Robe's PATT family, is based on modern LED pixel controlled technology. The pixelPATT is composed of 7 30W RGBW LED multichips, 1 in the center surrounded by a ring of 6, all housed in a super-slim and lightweight brushed metal frame.
Aesthetically it keeps the dimensions and attractive curvature of the PATT 2013 and the picklePATT making its physical appearance – as well as the light source – desirable. To maintain the elegant and lightweight design, a remote Power and Data box – the PATT Driver – is connected to the pixelPATT using an industry-standard 4-pin XLR.