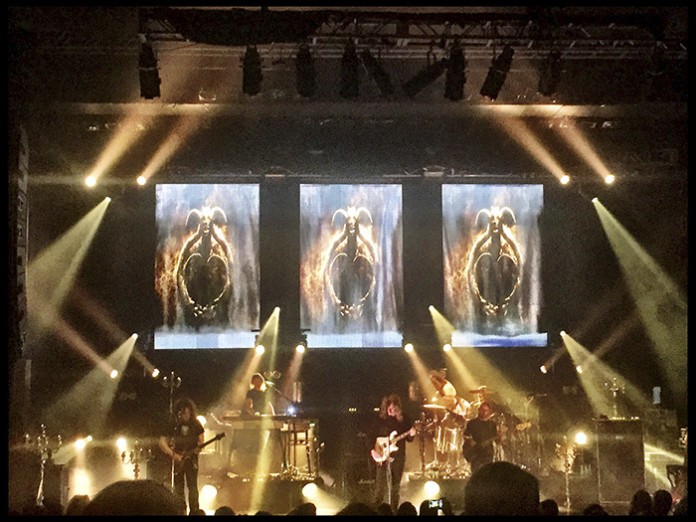 Award-winning Swedish progressive metal band Opeth celebrated their 25th anniversary during the autumn of 2015 with a European tour, complete with a stunning lighting design by Mick Thornton, who has worked with the band since 2005.
Thornton, a respected and well-established UK-based LD who works with a number of high profile international artists, specified Robe moving lights after an excellent experience using Robe on shows for the Moody Blues earlier in the summer. For the Opeth tour, lighting was supplied by Leeds-based lighting rental company, Zig Zag Lighting.
The fixture list included 10 Robe 600E Spots, 10 LEDWash 600's, 18 LEDBeam 100's and LEDForces and 18 RGBW LED PARs, together with strobes and molefays, distributed across four upstage vertical towers, a rear truss and the floor. Opeth's lighting is often moody, dramatic, dark, sinister and definitely edgy.
Video content – created by Thornton and featuring a mix of edited album artwork by Travis Smith, as well as new and original footage – ran through most of the set, in this case via a series of mesh video panels, fusing harmoniously with the lighting and stage action.
"Many of the songs are epic pieces," explained Thornton, who is also a big fan of the band's music. Each number is loaded with huge highs, lows, builds and crescendos, so running lights effectively entails detailed studying – and understanding of – the structural dynamics of the music as well as being in tune with the general atmospheric requirements of the gig.
Thornton was first properly introduced to using Robe products when he first worked with Zig Zag, and he's not looked back.
"The BMFL is an amazing unit and I try to use these fixtures on as much of my work as possible," he commented, adding that in his option, the Robe brand has gone from "strength to strength" in recent years and is currently his first choice of moving light fixture.
He said that he likes the little LEDBeam 100's for their "great" colour, pan-and-tilt speed and overall look.
Thornton programmed and controlled all the Opeth tour lighting via an Avolites Pearl Expert console running Titan, and Zig Zag's Paddy Sollitt ran the media server. Zig Zag are "a pleasure to work with" he stated, adding that Sollitt is a "class designer and highly knowledgeable tech".
Opeth has released eleven studio and three live albums – two of the latter in conjunction with live DVDs.