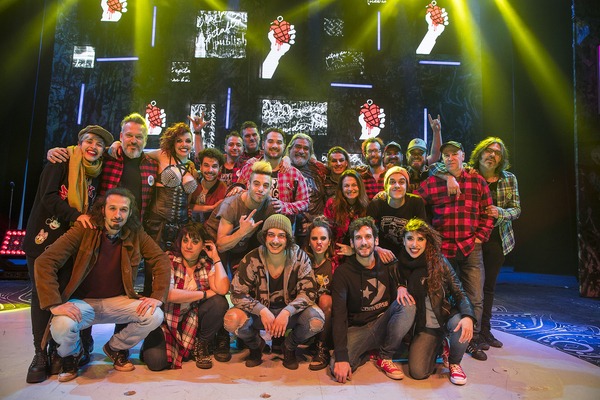 Argentinian directors and lighting designers developed the stunning production design for Green Day's American Idiot rock opera at the Broadway Theatre in Buenos Aires, Argentina, supported by Robe fixtures.
Robe Spiiders, Spikies and Squares were central to the rig, and are used by the 2 Ariels in their lighting aesthetic to complement the performances punk rock sound and gritty narrative. The fixtures were re-positioned and re-rigged between 3 shows, and Mahatma also utilises some additional Robe Pointes.
Ariel del Mastrom who designed sets for the productions, commented: "Effectively it's more like a rock concert with a storyline than conventional theatre production and so that's how we approached and lit it".
The 32 Robe Spiiders were all on overhead trusses, installed in the theatre roof and used for all the stage washes and colouring. Robe Spiiders were picked for their big zoom and the quality of the beam, in both narrow and wide modes, as well as for their map-ability with the individual LED pixels.
Robe Spikies were dotted around the video screens upstage, 16 Squares were used upstage of the back wall, blasting through the 6mm video screens, with 4 on the floor. 2 Ariels and a 5 metres by 5 metres matrix-style luminaire from Robe featured Mahatma in Cordoba venue.
CDM Productions supplied all the lighting fixtures for the American Idiot tour, with Mahatma and Taboo having made a large Robe investment earlier in 2017, delivered by Argentinean distributor, TSD Group.