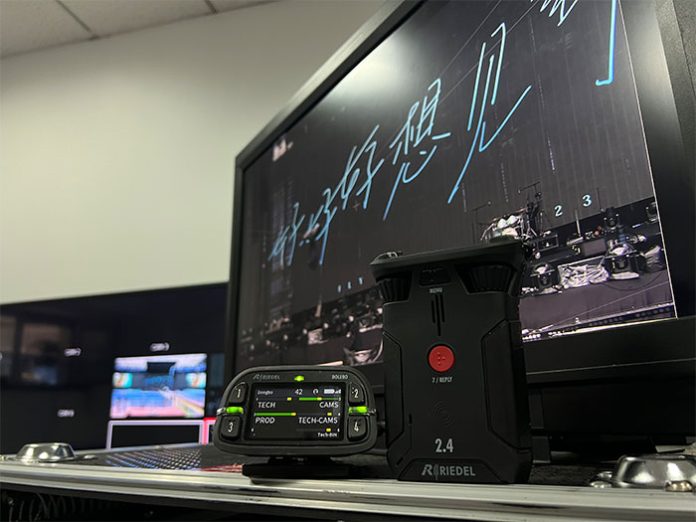 Riedel Communications Bolero 2.4 GHz wireless intercom system has been used for the first time in a large-scale live event in China during concerts for a popular Taiwanese band, held at Shenzhen Universiade Center Stadium in Guangdong and Shenyang Olympic Sports Center Stadium in July 2023.
Riedel distributor Jiangsu R&J Electronic rented out the Bolero system. Their General Manager Zhu Rongjun commented: "Their cutting-edge Bolero system has enhanced communication infrastructures all over the world. We took great pride in delivering this seamless solution and watching it elevate the production experience for both the artist and audiences alike."
The event demonstrates how Bolero 2.4 GHz can be used efficiently in a large-scale environment without being affected by other wireless devices on the same frequency.
Working in a stadium with a capacity of 50,000 spectators, the concert's director and crew in charge of lighting, sound, and video needed to communicate seamlessly throughout the venue. Although there were many wireless devices in the environment, the Bolero 2.4 GHz wireless beltpacks used by the production team provided audio and reliable communications, overcoming the issue of wireless co-frequency interference.
After integrating wired and wireless intercom systems, connecting Bolero to its Artist intercom via Riedel's NSA-002 network stream adapter, costs reduced by limiting the number of antennas needed, enabling operators to work in integrated and stand-alone modes.
The outside broadcast team used a MediorNet MicroN high-density signal interface to run frame sync and video signal distribution whilst also combining their broadcasting video tools in one RU, reducing rack space.
Peter Shen, General Manager at Riedel Communications stressed the challenges previously faced: "Due to the issue of wireless co-frequency interference, people have never dared to use 2.4-GHz wireless calls at large-scale event venues before. The Bolero 2.4 GHz has changed users' perspective having demonstrated the system's availability in a real-world environment."