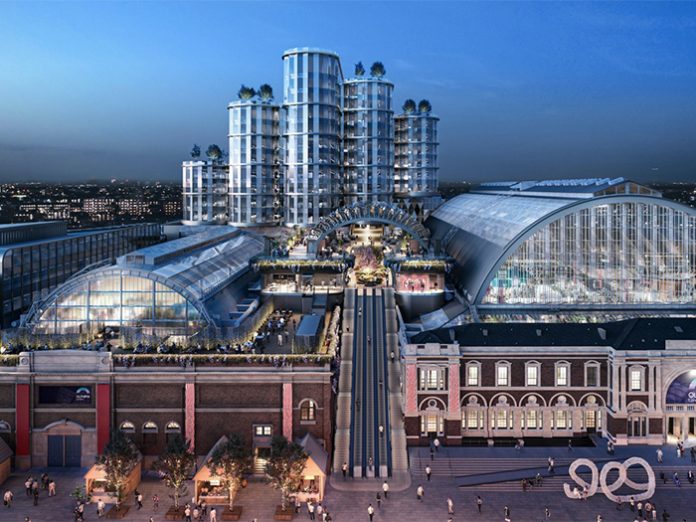 Yoo Capital and Deutsche Finance International (DFI) – together the investors in and developers of the £1.3bn regeneration of Olympia London into a world-leading cultural destination – announce three major agreements with leading names in entertainment and hospitality, marking the first occupiers to commit to the landmark scheme, four years ahead of its scheduled completion.
With construction work underway at the 14-acre site, live entertainment company AEG Presents, global hotel group Hyatt and affordable luxury lifestyle and hotel brand citizen have all signed long-term agreements to operate out of the west London venue.
Key tenancy details include:
· A 4,400-capacity state-of-the-art, purpose built live music venue, to be located above the existing west exhibition hall, will be run by AEG Presents, the world-leading global music and live entertainment company
· citizenM London Olympia, the brand's fifth London destination, will feature 145 rooms, three societyM meeting rooms, and an exciting interpretation of the citizenM Living Room in the historic listed Apex Room
· Hyatt Regency London Olympia will deliver personalised and energising guest experiences, memorable dining and flexible places to work, collaborate and relax. It will feature 196 rooms and suites, four meeting rooms, a bar and deli, and be connected to a new restaurant to be developed in the historic Pillar Hall
The £1.3bn Olympia redevelopment project will create a new cultural hub in west London. Yoo Capital and DFI are also in advanced talks with other potential occupiers with strong interest being shown for the development's four-screen arthouse cinema, 1,500-seat theatre, restaurants, shops, cafés, hotels and 550,000 sq ft of office and co-working space. The Heatherwick Studio and SPPARC-designed project will also see the enhancement of the existing exhibition halls and 2.5 acres of new public space created.
AEG's award winning Global Partnerships team is to oversee all of the naming rights and partnership opportunities for the entire Olympia London campus, including the new music venue managed by AEG Presents. The team will present the assets to market and broker all deals on behalf of the developers.
Chairman of Yoo Capital, John Hitchcox, said: "It's been a challenging year for the events, live entertainment, retail and hospitality sectors – but having these three partners on board is a real positive for London and a clear indication of confidence in both the city and this iconic landmark as a destination for culture and creativity. The Olympia project will give a real boost to the local economy, bringing in an extra £9m per year in consumer spending to Hammersmith & Fulham, so we are very pleased to be taking another big step towards the realisation of a new vision for this area."
Yoo Capital Managing Partner, Lloyd Lee, added: "We made a commitment in 2018 to the community, government leadership and the creative industries that we would deliver a new district dedicated to the performing arts, entertainment and exhibitions in 2024. In these incredibly challenging times, we not only welcome our new partners but, on their behalf and our own, we also would like thank the literally hundreds of industry professionals who have worked with us tirelessly every day to achieve this next major milestone and keep us on track to bring Future Olympia to life in less than four years from today."
Oliver Gardiner, Development Director at DFI, commented: "To have secured three such high-profile and recognised brands for Olympia against the current market backdrop, and four years ahead of completion, is a ringing endorsement of the enormous potential that is set to be unlocked through this project. Our plans are on schedule and it's gratifying to have reached this milestone as we work to assemble a world-leading occupier line up."
Nigel Nathan, Managing Director of Olympia London, said: "We're incredibly excited to have these fantastic brands joining us as our new onsite neighbours. Collectively we're creating richer experiences and more opportunities for all our customers and visitors that we host at our iconic London venue."
Cllr Stephen Cowan, Leader of the London Borough of Hammersmith & Fulham, added: "Olympia is a crucial part of our mission to make Hammersmith & Fulham a global hotspot in STEM industries, the arts, fashion and culture, that is already bringing some of the best careers and start-up opportunities to our residents' doorsteps – something that will continue for generations to come. I welcome news of Yoo Capital Management's latest progress and will continue to work with them and local residents on this important project."
Steve Homer, CEO AEG Presents, commented: "This is a very exciting opportunity. Olympia is steeped in British music history as far back as Jimi Hendrix in the 60s. AEG Presents are delighted to be part of the new development and we plan to create more iconic shows for London audiences."
Klaas van Lookeren Campagne, CEO of citizenM hotels added: ""We are thrilled to be bringing citizenM to this exciting development in Olympia. We are confident that our affordable luxury concept will appeal to weekend culture-lovers and weekday workers alike, and are delighted to have found such a perfect location for our fifth property in London. We are grateful for our relationship with Yoo Capital and look forward to working closely with them on this exciting project."
Felicity Black-Roberts, vice president of development Europe, Hyatt said: "The idea behind the Hyatt Regency brand is to offer a stress-free environment for seamless gatherings and empathetic service that anticipates the needs of our guests. Adding a second Hyatt Regency hotel to the Hyatt portfolio in London contributes to our ambitious growth strategy for the United Kingdom. With its cultural offering, great transport links and local surroundings, Olympia London is the perfect new location for us."
Alistair Wood, EVP Real Estate & Development at AEG Europe, commented: "We are very impressed by the scale and ambition of Olympia's vision for this site. This will become a real hub for events and entertainment for the west of London and we are delighted to be able to play a part in delivering that vision with a venue that will fill an identified gap in the London live music market."
CBRE and Cushman & Wakefield are joint advisors on the leasing. The Olympia London redevelopment is due to be completed in 2024.