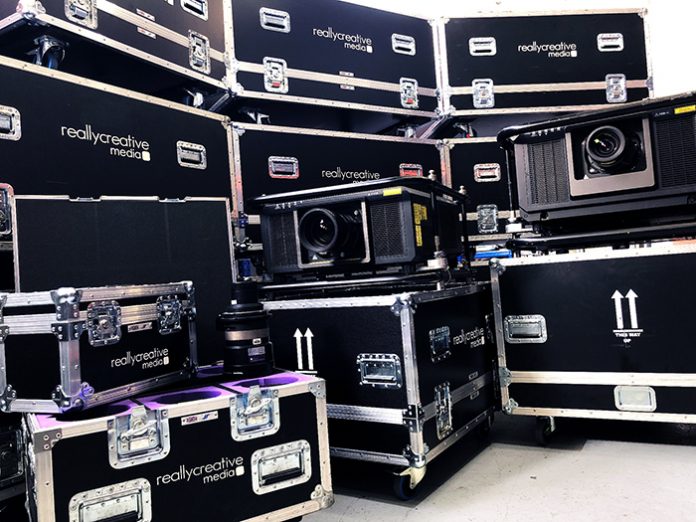 Digital and live production expert, Really Creative Media, has continued its investment in the latest Panasonic projection technology, ahead of a busy 2018 of high-end fashion events and summer touring with headline music artists.
Nick Dew, Managing Director of Really Creative Media, announced the company has completed the purchase of Panasonic PT-RZ21K 20k lumen laser projectors, in a continued effort to demonstrate the highest level of service offered to its live events clients. The latest projection offering from Panasonic has the smallest footprint of any 20,000-lumen laser model on the market, weighing only 49kg, making it the ideal choice for rental or stage use opportunities. With over 20,000-hour maintenance-free operation, the technology offers first-class colour reproductions and reduced show running costs, lending itself perfectly to creatively challenging live events and longer running tours.
Dew explained: "The new units made a lot of sense for us. They complement our existing rental stock of equipment including the Panasonic RZ31K 30,000L projectors and all the existing lenses and accessories."
The projection can handle 360° install through any axis which makes it easy to integrate into rigs and set designs with less than favourable vantage points for to project from. Dew continued: "As a live production agency we take huge pride in delivering the highest level of creative quality to our clients who are at the top of their game, and this recent addition to our inventory of world-class live production technology enables us to keep pushing visual boundaries. The last 12 months have been incredible for us working for the likes of BRIT award-winning Dua Lipa, Clean Bandit, Rudimental and the Pet Shop Boys and we look forward to utilising our new projectors on an ever-growing roster of music and fashion clients."
Really Creative Media has worked with flight case manufacturer 5 Star Cases to design new cases for the additions to the team's new product inventory.