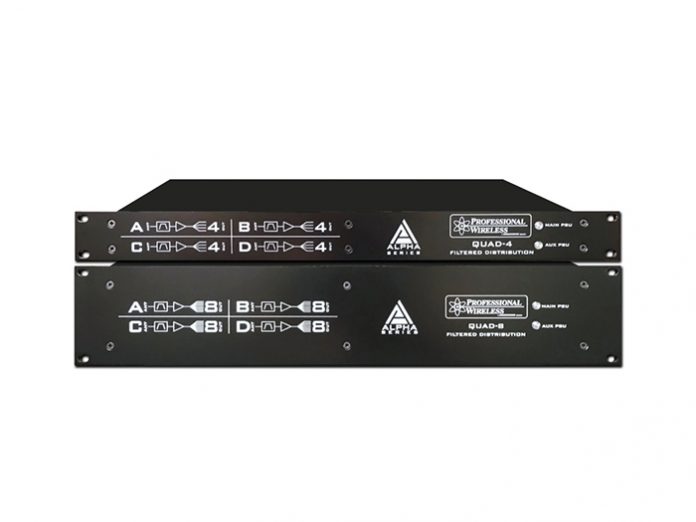 Orlando-based Professional Wireless Systems has announced the addition of the 1RU Alpha Quad-4 and 2RU Alpha Quad-8 to the Alpha Series, which was introduced earlier this year. The new units will make their industry debut at the AES show in New York City, Booth #834.
The Alpha Quad-4 and Quad-8 are designed for use with multiple Shure Axient AD4Q receivers in Quadversity mode. The units provide four individual unity-gain signals (A, B, C, D) to up to four quad receivers, with RF filtering at 470-616 MHz Power is supplied to the units with either the
main or the Aux inputs, or used at the same time for redundant power.
"The Alpha Quad distros serve as the 'head end' for the receive antenna system," explained Professional Wireless Production Manager Justin Van Winkle. "Four antennas can be connected to the rear-panel input connections. The RF signals are then filtered, amplified and split into four (Quad-4), or eight (Quad-8), outputs per unit."
The Alpha series features products designed to offer users the same durability and reliability that Professional Wireless products are known for with the features necessary to get simple jobs done smarter and more efficiently – at a price point that fits everyone's budget. The new Quad distros will be an invaluable addition to users of the Shure Axient digital microphone system everywhere.
"These products fill a need in the industry," concluded Van Winkle. "The Alpha Series is a cost-effective product line that offers the features users need every day without the expensive bells and whistles. You will see the introduction of more Alpha Series in the months ahead."