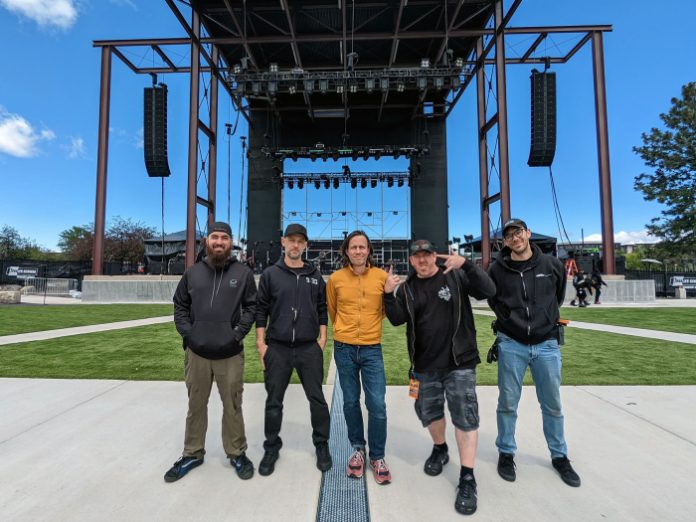 HAIM's current Women in Music Pt. III  Tour marks the second international headlining jaunt by the acclaimed California trio of sisters. The tour began in Las Vegas in April 2022 and will take them to more than two-dozen scheduled stops across the US and then onto Canada and Europe.
The COVID-19 pandemic has wreaked havoc with touring, including this one, by shutting down the tours completely — then, more recently, by bringing bands back onto a road with plenty of strange curves. In HAIM's case, it means moving between arenas to amphitheatres, then back to arenas, and even some large clubs, one night to the next. Asking one PA system to make those same moves with them is a lot, but the L-Acoustics K2 always says, "can do!"
The full rig for the tour, sourced by the Production Resource Group's (PRG) Los Angeles office, encompasses 32 K2 enclosures, flown 16 per side, with 12 Kara per side as outfills. Eight more Kara line the stage lip as front-fills, with four ARCS II boxes on hand as utility fills as needed. Meanwhile, 16 KS28 subs are deployed to reinforce the K2 with added low-end extension. Everything is powered by 36 LA12X amplified controllers running on an AVB network through a pair of L-Acoustics P1 AVB processors. 
But not every fan will hear every box on every show. Because of the variety of venues on this tour, the PA needs for each space can vary considerably. That's not a problem for the K2, says Scott Jarecki, HAIM's PA technician on the tour. "What's great about the K2 is how versatile it is," he said. "We're working in a wide range of venues, and the system can scale very nicely for any of them." 
For example, he cites how the KS28 subs can be deployed either in stacks of two, set eight feet apart across the stage, or in an arc on the ground in front of a stage. Various PA configurations were largely mapped out even before the first truck rolled out, thanks to Jarecki and systems engineer Tom Stegemann working out designs for each venue and performance ahead of time with L-Acoustics Soundvision predictive software and the FIR filters. 
"We know when we roll up exactly how much PA we need to take off the truck, from Madison Square Garden to a club date," said Jarecki. "It scales incredibly well and no matter what configuration of the system we end up using, it still sounds familiar to our front-of-house mixer, Scott Adamson, with all the voicings Scott expects to hear and how it will react in the house. The system is very flexible and adapts to the venue."
Stegemann also appreciates the K2 rig's flexibility but in a different dimension. "There have been times on this tour where we are pushing the laws of physics, getting the K2 boxes to throw as far as 300ft in some cases," he explained. "It's a very good technology because it lets us push it beyond the envelope when necessary, so that the front of house and the farthest seats both get the right experience."
HAIM's L-Acoustics system was designed by Randall Knight, Audio Project Manager at PRG's Toronto office. "It was always going to be L-Acoustics; HAIM's production manager, Chip Valentino, requested it," he said. Knight says he considered the band's widely-ranging venue itinerary and calculated that the K2 and Kara enclosures would provide the best balance of coverage and budget. "You must keep both of those things in mind for touring these days, and L-Acoustics gives us the tools we need to pinpoint that."
Working with PRG engineers Jason Swartz and Andy Alonso, Knight customised the system in several ways that would help achieve both aims. For instance, they divided the tour's amplified controllers into two large custom racks, stage right and left. "That allowed them to scale the power needed for each configuration of the system, from Madison Square Garden on down to smaller venues, without having to move individual amps," he said. Knight got to test his own design in a very hands-on manner when HAIM did their show at Echo Beach in Toronto. Stegemann was unable to make the show due to a COVID-19 infection at the time, and after trying to find a sub in the ultra-tight labour market that is touring today, Knight stepped in himself as system engineer. "It was great," he recalls, "to really know that the system you put together works so well."
HAIM's North American tour leg kicked off on 24  April in Las Vegas and wrapped up its 27th date in Bend, Oregon, on 14 June 2022. From there, the band heads over to the UK and Europe for 15 more stops, starting at Glastonbury Festival on 25 June and running through its closing London date on 21 July, before returning to the US for more shows.